Natural Relief 1222 | Fights Arthritis Pain Naturally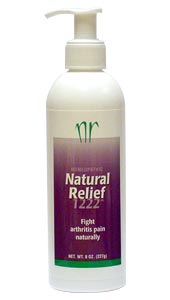 ---
Ingredients & Description
Do you suffer from the debilitating pain of rheumatoid arthritis and osteoarthritis, or perhaps you struggle with occasional muscle strains and soreness? Do you work hard and play harder? Perhaps aging is taking it's toll and it is more painful and difficult to do the things you did just a few years ago. This is when
Natural Relief 1222 from Life Extension
can be of great help and benefit. A unique and patented combination of natural oils and organic ingredients that is able to produce immediate relief from the pains many of us experience in our daily lives.
Safe, effective and powerful, Natural Relief 1222 is a topical cream that clinical trials have shown to be beneficial against the discomfort associated with inflammatory conditions. Its active ingredient, Bryonia 6X, exhibits significant fluid-balancing activity.
NFL professional football trainers and athletes regularly use Natural Relief 1222 to combat pain, stiffness, and injuries. Following the recommendation & instruction of the USA Track & Field (www.usatf.org), The Banned Substances Control Group (www.bscg.org) tested and approved Natural Relief 1222 for use by elite athletes in the Beijing 2008 Olympics.
Dosage and Use:
Apply a small amount to the affected area(s) and gently massage into skin. If more is needed, reapply.
Use up to four times per day.
Can be applied before exertion or physical activity to reduce after-activity soreness.
User may experience a mild cooling or warming sensation a few minutes following application.
Periods of relief may be short at first, but will increase with time and regular usage.
Continued use is recommended for chronic conditions.
Supplement Facts
Active ingredients: Bryonia 6X (Bryonia alba), Rhus toxicodendron 6X.
Inactive ingredients: olive squalane, garlic oil, almond oil, soybean oil.
Natural Relief 1222 and Natural Relief 1222 logo are trademarks of NR1222 LLC. All rights reserved.
You have reached Natural Relief 1222 on Seacoast.com from the manufacturer Life Extension. We're proud to have served 0 customers since 03/19/2014 who were also interested in purchasing Natural Relief 1222. It currently ranks as our 8 most popular natural health product.
Technical Natural Relief 1222 Details: Locate this product using sku number or ISBN . For shipping, the weight is equal to 0.45 pounds and is currently out of stock. Typical inquiries include Arthritis , Best Safe Topical Analgesic, Homeopathic Pharmacopoeia, Joint Pain, and natural health. Seacoast Vitamins offers this product at a $5.41 discount off of the suggested retail price $45.9500. Our price is $40.54.
SKU: 33444
Distributed or manufactured from Life Extension. See more
Life Extension
products.
---
*Not intended to diagnose or treat diseases or ailments, and is not reviewed by the FDA.
Uses & Indications.
Providing Temporary Relief From Muscle Soreness And Joint Pain
Naturally Fighting Painful Arthritis
Ailments & Concerns.
Arthritis
Joint Pain
Sore Muscles