Natural BP Management (60 tablets) - LifeExtension - Maintain Healthy Blood Pressure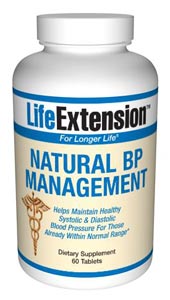 ---
Ingredients & Description
LifeExtension- Nutritional Supplements, Antiaging, Health and Nutrition
Natural BP Management 60 tablets
Natural BP Management is the first broad-spectrum nutritional supplement to combine potent, standardized concentrations of these novel nutritional agents in one convenient, easy-to-use formula:
CVH 15, derived from whey protein, naturally inhibits angiotensin converting enzyme. Since this enzyme can act to increase activity of the dangerous blood vessel constrictor angiotensin, the peptides inhibiting effect on this enzyme can help to maintain already normal blood flow and blood pressure.
Grape seed extract naturally increases blood vessel dilation, thereby promoting healthy blood flow and blood pressure already within the normal range. Available for the first time is a patented grape seed extract that contains a novel ratio of uniquely structured polyphenols.
Pomegranate extract is an abundant source of highly concentrated compounds called punicalagins that function as natural antioxidants and also inhibit angiotensin converting enzyme, thus supporting blood vessel dilation and countering vessel constriction. This patented extract not only supports blood pressure management, but also may provide added cardiovascular protection by promoting healthy endothelial function and inhibiting low-density lipoprotein (LDL) oxidation.
Supplement Facts
Serving Size 2 tablets Servings Per Container 30 Amount Per Serving
CVH 15 whey protein hydrolysate (biologically active peptide)1700 mg
MegaNatural-BP Grape Seed (Vitis vinifera) Non-GMO Extract [std. to 85% Total Phenolicsas Gallic Acid Equivalents (127.5 mg)] 150 mg
POMELLA Pomegranate (Punica granatum) Extract (fruit) [std. to 30% Punicalagins (15 mg)] 50 mg
Other ingredients: calcium carbonate, croscarmellose sodium, microcrystalline cellulose, stearic acid, hydroxypropyl methylcellulose, magnesium stearate, silica, propylene glycol, triacetin.Contains milk. Contains corn. This product contains NO egg, fish, peanuts, crustacean shellfish (lobster, crab, shrimp), soybeans, tree nuts, wheat, yeast, gluten, or rice. Contains NO artificial sweeteners, flavors, colors, or preservatives.MegaNatural-BP is a registered trademark of Polyphenolics, a division of Constellation Wines US, Inc. and is produced under U.S. patent 6,544,581, other patents pending. POMELLA is a registered trademark of Verdure Sciences, Inc.CVH 15 is a trademark of Glanbia PLC.
Dosage and Use :Take two tablets in the morning preferably before a meal, or as recommended by a healthcare practitioner. If needed, take two additional tablets in the evening. If advised by a healthcare professional to take this product concurrently with anti-hypertensive medication, start with one tablet daily and adjust only under the continued care of a healthcare practitioner.
SKU: 984
UPC: 737870984061
Distributed or manufactured from Life Extension. See more
Life Extension
products.