Muscle OptiMeal Vanilla - Jarrow Formulas - Total Protein: Whey, Milk & Rice Protein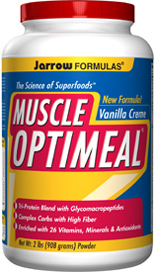 ---
Ingredients & Description
Muscle Optimeal is the ideal low-sugar drink mix to increase intake of proteins utilizing complex dietary fiber, vitamins, minerals and antioxidants. Muscle Optimeal is a complete metabolic optimizer incorporating nutraceuticals known to enhance human performance, including whey protein concentrate and isolate, rice and milk proteins, multi-fiber complex, xylitol and 26 essential vitamins and minerals. This delicious tasting blend of nutrients mixes instantly in your favorite beverage (including water) for a fast, low-sugar, nutritious meal; no blender required. Muscle Optimeal is low in simple sugars, and does not contain any artificial flavors or sweeteners (no Aspartame or Acesulfame).
MUSCLE OPTIMEAL ADVANTAGE
Tri-Protein Blend Each serving of Muscle Optimeal contains 22 grams of high biological value protein from whey, milk and rice, providing about 5 grams of Branched Chain Amino Acids (Leucine, Isoleucine and Valine). Whey protein is the king of proteins because it is the richest natural source of Branched Chain Amino Acids (BCAAs). BCAAs are important for enhanced muscle development, muscle repair and gluconeogenesis (synthesis of glucose), and are depleted during intense exercise. BCAAs are essential amino acids and must be provided in the diet, since they are not manufactured in the body. For a better anabolic effect, Muscle Optimeal also contains milk and rice protein, which are digested more slowly than whey to offer a delayed release of amino acids for sustained muscle protein synthesis.
MultiFiber An advanced, dietary soluble fiber made of complex carbohydrates from rice bran fiber and rice bran solubles. Each serving of Muscle Optimeal contains 6 grams of fiber per serving, comprised of 4 grams soluble fiber and 2 grams insoluble fiber. MultiBlend is a blend of 26 essential vitamins/minerals added to Muscle Optimeal. Included in MultiBlend are important antioxidant nutrients, such as vitamins A, C, E, folic acid and stress B vitamin complex, including vitamin B12.
50% Daily Value of 26 Vitamins & Minerals Per Serving
Nutrients Per 46 g Serving
Essential Amino Acids: Alanine, Arginine (semi-essential), Aspartic Acid, Cysteine, Essential Amino Acids, Glutamine + Glutamic Acid, Glutamine and Glutamic acid, Glycine, Histidine (semi-essential), Isoleucine, Leucine, Lysine, Methionine
Muscle Optimeal
Non-Essential Amino Acids: Phenylalanine, Proline, Serine, Threonine, Tryptophan, Tyrosine, Valine
Soluble and Insoluble Fibers
Total Protein: Whey, Milk & Rice Protein
Suggested Serving: Take one serving within 30 minutes following completion of exercise (best absorption of nutrients occurs after exercise). Or, Muscle Optimeal may be used in place of a meal during the day.Mix 2 scoops (46 g) of powder with 6 to 8 oz. water, milk,soy milk or your favorite beverage, or you may: Blend powder with liquid, ice and fruits for smoothies. Mix into cold or cookedcereals. Add to baked items (bread, muffins, etc.) or frozendesserts and yogurt.
Keep out of the reach of children.
SKU: MMEAL
UPC: 790011210122
Distributed or manufactured from Jarrow Formulas. See more
Jarrow Formulas
products.