Minor Pain Relief -Planetary Formulas- safe, effective herbal formula that soothes minor pain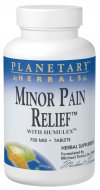 ---
Ingredients & Description
Planetary Herbals brings you MINOR PAIN RELIEF, a safe, effective herbal formula that soothes minor pain, inhibits COX-2 inflammatory response, and strengthens the body with antioxidants. The formula contains corydalis, from Chinese herbalism; hops from European herbal traditions; willow bark, used for centuries for natural minor pain relief; and ginger, which supports the bodys healthy defenses, soothes minor pain, and fortifies with powerful antioxidants and COX-2 inhibitors.This remedy is neither habit forming nor irritating to the stomach.
Planetary Herbals is pleased to bring you this safe, effective remedy to support your health and well-being.
Corydalis (Corydalis yanhusuo), a member of the poppy family, has been used successfully for over 2,000 years within the system of traditional Chinese herbalism to inhibit minor, everyday pain. Corydalis has also been shown to support healthy cardiovascular processes such as regular heartbeat and blood pressure.
Hops (Humulus lupulus) is a bitter-tasting climbing perennial vine used worldwide in beer-making. MINOR PAIN RELIEF contains a standardized extract of hops, called Humulex. Modern research has documented that Humulex, the alpha acid of hops, can be used to relieve minor pain as well as the minor, everyday, cellular swelling and irritation that goes along with it.
Willow bark (Salix spp) has been used for health for approximately 2,000 years. Modern clinical studies prove that willow bark remains as effective as ever for the relief of minor pain and inflammatory mechanisms.
Ginger(Zingiber officinale) lessens everyday minor pain and the cellular irritation that accompanies it by decreasing the production of prostaglandins generated by the COX-2 enzyme. Unlike many other compounds, ginger is renowned for being easy on the stomach. Ginger is non-irritating and contains powerful antioxidants that strengthen and support the body on a cellular level. Ginger, as well as corydalis, promotes healthy tissues and good circulation.
Suggested use: 2 tablets twice daily.
Supplement Facts for 750 mg Tablet Serving Size: 2 tablets -Amount %DV -Sodium 5 mg <2% -Total Carbohydrates 1 g <2% -Dietary Fiber 1 g 4% -Vitamin C (as ascorbic acid) 50 mg 80% -Calcium 38 mg 4% -Proprietary Blend 1.45 g Hops Aerial Parts Extract (yielding 150 mg Humulex alpha-acids [Perlexan]), Corydalis yanhusuo Tuber, White Willow Bark Extract (yielding 60 mg salicin), Ginger Root Extract (5% gingerol).
Other Ingredients: microcrystalline cellulose, modified cellulose gum, stearic acid, colloidal silicon dioxide.Warning: Do not use this product if you are pregnant, breastfeeding or may become pregnant. Chronic use of COX-II inhibitors may temporarily impair female fertility. Continuous use of this product with non-steroidal anti-inflammatory drugs such as aspirin, acetaminophen, or ibuprofen may increase the risk of gastric erosion caused by these compounds. Consult a health care professional prior to use if you are taking anti-platelet medication or have gallstones.Do not use if either tamper-evident seal is broken or missing. Keep out of the reach of children.
Planetary Herbals offers the best of classic herbal traditions, from Ayurvedic and traditional Chinese herbalism to the experience of Western herbal practitioners. Utilizing the knowledge of more than 30 years clinical experience, professional herbalists such as Michael Tierra, Lesley Tierra, Jill Stansbury, and Alan Tillotson, Planetary Herbals is committed to ensuring that our time-tested herbal traditions continue to evolve, grow, and flourish.
SKU: PF0542
UPC: 021078105428
Distributed or manufactured from Planetary Herbals. See more
Planetary Herbals
products.