MenoChange, Cimicifuga-Vitex Compound -Planetary Formulas- Botanical Support for Menopause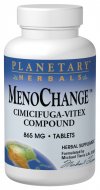 ---
Ingredients & Description
MenoChangeFor A Positive Change. Naturally.The "change." A challenging transition, with extensive emotional and physical impact. Because the onset of menopause, beginning as early as age 40, places unique demands on a woman, Planetary Formulas created MENOCHANGE. This comprehensive formula integrates the traditional wisdom of herbalists with modern science. MenoChange combines proven botanicals and herbs to support a safe, gentle and positive passage.The Hormone BalanceEstrogen stimulates, affects and balances hundreds of processes. When its level fluctuates, the bodys internal balancing act is profoundly influenced. Periods become irregular, sleeping patterns change, and women often experience mood swings, hot flashes or weight gain. The body vainly tries to compensate for estrogen loss by releasing luteinizing hormone. This causes wild changes in skin temperature, resulting in hot flashes and night sweats.
Suggested use: 3 tablets daily between meals.
Supplement Facts for 865 mg TabletServing Size: 3 tablets Amount%DVCalories5 Dietary Fiber1 g2%Calcium (as calcium citrate)43 mg4%Sodium10 mg<2%Black Cohosh Extract Yielding 2.5% Triterpene Glycosides120 mgProprietary Blend: Magnesium Citrate, Chaste Tree Berry (Vitex agnus-castus), Dong Quai Root Extract (4:1), Wild Yam Root Extract (4:1), Calcium Citrate, Anemarrhena Root, Bai Zhu Atractylodes Rhizome, Bupleurum Root, Epimedium Leaf, Gardenia Fruit, Tree Peony Root Bark, Phellodendron Bark, Poria Sclerotium, Chinese Peony Root, Ginger Root, Motherwort Leaf, and Licorice Root.2.47 g
Other Ingredients: stearic acid, sorbitol, modified cellulose gum, colloidal silicon dioxide, magnesium stearate.Contains wheat/gluten.Warning: DO NOT USE if you are pregnant, may become pregnant, or breastfeeding. If you are taking Interferon or any other prescription drugs, consult your physician before using this product.Do not use if either tamper-evident seal is broken or missing. Keep out of the reach of children.Suggested Use: 3 tablets daily between meals.
Planetary Herbals offers the best of classic herbal traditions, from Ayurvedic and traditional Chinese herbalism to the experience of Western herbal practitioners. Utilizing the knowledge of more than 30 years clinical experience, professional herbalists such as Michael Tierra, Lesley Tierra, Jill Stansbury, and Alan Tillotson, Planetary Herbals is committed to ensuring that our time-tested herbal traditions continue to evolve, grow, and flourish.
SKU: PF0324
UPC: 021078103240
Distributed or manufactured from Planetary Herbals. See more
Planetary Herbals
products.