Meltdown (120 caps) - VPX Sports - Advance to the Next Level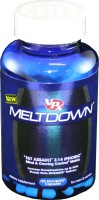 ---
Ingredients & Description
Meltdown by VPX is the most profound scientific fat loss innovation of the decade. Meltdown has a star studded ingredient profile of newly invented exclusive fat loss compounds designed to burn fat faster and longer by kicking up a thermogenic storm! And that's just the tip of a very large iceberg of fat burning science. Meltdown will radically increase energy levels, take mental acuity and alertness into the stratosphere and induce an intense mood-altering euphoric effect that is going to re-write fat loss biochemistry.Meltdown is the world's most scientifically sophisticated advanced fat burner. Meltdown is powered by a pharmaceutically inspired polymer based lipid delivery system called PolyLipid. This "steady state" technology delivers both rapid and sustained controlled-release of the powerful active Meltdown compounds. VPX is the father of liquid delivered fat burners in the nutritional industry and to date has engineered and sold more liquid delivered fat burning ingredients than all other companies combined! You won't catch VPX doing any mindless "capsule within a capsule" hocus pocus nonsense. PolyLipid Delivery is advanced and authentic pharmaceutical science that dramatically improves the pharmacokinetics of fat burning compounds.
Suggested Use:
Directions: Take 1 to 3 capsules upon awakening or before workout
Supplement Facts:
Serving Size 3 capsules Servings Per Container 40 Calories 0g Total Carbohydrate 0g 0% Total Fat 0g 0% Fat Catabolizor & Activator 317mg Caffeine Anhydrous M-TTA Yerbe mate extract Lipolytic Trigger CAM Super Synephrine Activator 20mg Methyl synephrine HCL Iphoric Potent Methyl Matrix 138mg R-beta methylphenlethylamine N-Methyl-beta-phenylethylamine Norepiphex andrenergic blockade complex 9mg 11 hydroxy yohimbine yohimbine alpha yohimbine Norepiphex M-MAOxidizor 20mg Methyl-hordenine HCL Percent Daily Values are based on a 2000 calorie diet
Other Ingredients:
Bioliquid PolyLipid (Polymer-Lipid Based) Delivery System: Contains One Or More Of The Following: Super Refined Sesamum Indicum (Sesame) Seed Oil, Propylene Glycol Fatty Acid Ester, Safflower Oil, Sunflower Oil, Purified Water, Gelatin, Titanium Dioxide
UPC: 610764711960
Distributed or manufactured from VPX Sports. See more
VPX Sports
products.