Mega Minerals Plus | GHT - Global Health Trax |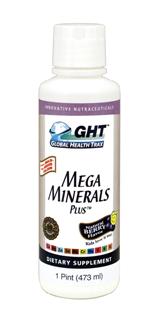 ---
Ingredients & Description
Minerals are essential for enabling the body to perform all its functions, including energy production, growth and healing. Both major and trace minerals are nutrients best taken daily. Mega Minerals Plus contains Calcium, Magnesium, Zinc, Selenium, Manganese, Chromium, Molybdenum, Potassium, Boron, and Silicon. These are required by our bodies in larger amounts whereas the trace minerals are needed only in very small amounts for good health and give maximum penetration through cell membranes.
Benefits:
Maintenance of the sodium-potassium balance inside and outside the cell
Maintenance of teeth and bones
Promotion of sound sleep
Proper control of tissue fluid acid-alkaline balance
Maintenance of the body's homestatic balance
Directions: May be used anytime. For true osteo benefits, take 2 tbsp (1 fluid ounce) with evening meals, at bedtime or as directed by a healthcare professional. It is important to shake this product VIGOROUSLY. Refrigeration is not required for limited periods. If left unrefrigerated, thickening may result. Simply add a tablespoon or two of water and shake well for a thinner consistency. If you are flavor sensitive, mix 1/2 - 1 capful of Mega Minerals Plus with milk, juice, water or smoothie
Supplement Facts
Mega Mineral Plus
Serving Size: 1/2 oz
APS
%DV
Calories
20
Total Carbohydrate
4 g
1%*
Sugars
1 g
<1%
Sodium
15 mg
50%
Vitamin D (as Cholecalciferol)
200 IU
50%
Calcium (as Tri Calcium Phosphate, Calcium Citrate, Calcium Malate)
400 mg
40%
Magnesium (as Magnesium Citrate)
100 mg 25%
25%
Zinc (as Zinc Gluconate)
3 mg
20%
Selenium (as Selenium Methionine)
20 mcg
28%
Manganese (as Manganese Gluconate)
.3 mg
15%
Chromium (as Chromium Polynicotinate)
50 mcg
42%
Molybdenum (as Sodium Molybdate)
25 mcg
33%
Potassium (as Potassium Citrate)
25 mg
1%
Boron (Amino Acid Chelate)
.3 mg
**
Nyacol Silica
5 mg
**
Glucono Delta Lactone (GDL)
500 mg
**
Ionic Trace Elements
50 mg
**
Stevia (leaf) (natural sweetener)
7 mg
**
*Percent Daily Values are based on a 2,000 calorie diet.
**Daily Value (DV) not established.
Other Ingredients: Purified water, glycerin, malic acid, natural berry flavor, potassium sorbate and sodium benzoate (to preserve freshness), xanthan gum, guar gum, alginate, inulin (helps absorb calcium). Natural Color (may vary or change per batch or with time.)
You have reached Mega Minerals Plus on Seacoast.com from the manufacturer Global Health Trax. We're proud to have served 1213 customers since 07/08/2010 who were also interested in purchasing Mega Minerals Plus. It currently ranks as our 0 most popular natural health product.
Technical Mega Minerals Plus Details: Locate this product using sku number or ISBN . For shipping, the weight is equal to 0.50 pounds and is currently out of stock. Typical inquiries include Mega Minerals Plus*, and natural health. Seacoast Vitamins offers this product at a $7.2 discount off of the suggested retail price $31.1500. Our price is $23.95.
SKU: 102100
UPC: 102100
Distributed or manufactured from Global Health Trax. See more
Global Health Trax
products.