Mega-Mag (400 mg - 4 oz) - Trace Minerals Research - Nutritional Support For Bone, Muscle, And Connective Tissue Health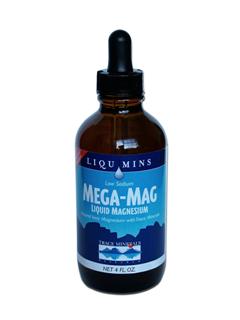 ---
Ingredients & Description
Introducing Liquimins, ionically charged liquid minerals from Trace Minerals Research. Surging with over 70 minerals and trace elements that your body needs for optimal health, Liquimins are absorbed quickly because they're liquid. And because the minerals are ionically charged, they increase the absorption of other nutrients, too.
They're perfect for those who prefer taking liquid supplements rather than tablets. And with Liquimins you get all the health benefits of minerals and trace elements with the ease, convenience, and speed of a liquid supplement.
Mega-Mag Liquid Magnesium is a rich, natural source of concentrated magnesium ions with other minerals and trace elements that act as natural co-factors. VEGAN FORMULA.
Magnesium is essential to over 400 different enzyme reactions and various other body functions. Magnesium ions (charged magnesium atoms) play a key role in nerve conduction, muscle contraction, bone and tooth formation, protein metabolism and are particularly important to heart and circulatory health. Research has shown many American diets to be deficient in magnesium.
Suggested Use: ¼ to 0.8 teaspoon (1 to 4 mL) daily with juice or food to mask the highly concentrated mineral flavor. To top off or fully supplement your diet with magnesium, we recommend starting with ¼ teaspoon and increasing as needed, ideally spread throughout the day. We also recommend taking Mega- Mag with a large glass of fluid for the best isotonic balance. Excess magnesium may cause a laxative effect.
Supplement Facts
Mega-Mag Liquimins
Serving Size: 0.8 tsp. (4 mL)
APS
%DV
Magnesium
400 mg
1
Chloride (ConcenTrace®)
1120 mg
0.33
Sodium
5 mg
0.08
Potassium
3 mg
<1%
Sulfate (ConcenTrace®)
60 mg
**
Boron (ConcenTrace®)
500 mcg
**
Plus the following in naturally occurring, varying trace amounts from ConcenTrace®: Carbonate, Bromide, Fluoride, Iodine, Rubidium, Scandium, Phosphorus, Nickel, Chromium, Strontium, Cobalt, Titanium, Lanthanum, Cerium, Barium, Copper, Silicon, Yttrium, Molybdenum, Tin, Gallium, Gold, Silver, Cesium, Beryllium, Selenium, Vanadium, Dysprosium, Holmium, Terbium, Praseodymium, Lutetium, Gadolinium, Samarium, Bismuth, Ytterbium, Erbium, Europium, Neodymium. Plus the other minerals found in sea water.
*Daily Value (DV) based on a 2,000 calorie diet. **Daily Value not established.
Ingredients: Ingredients: A high magnesium, low sodium concentrate from Utahs Inland Sea, the Great Salt Lake. Contains no added ingredients. VEGAN.
Allergen Info: contains no known allergens. Gluten Free.
SKU: LMM01
UPC: 878941000256
Distributed or manufactured from Trace Mineral Research. See more
Trace Mineral Research
products.
---
Questions and answers:
Asked on: September 24, 2013
Question: Is this product chloride of magnesium and other minerals?
This questions has not been answered yet. Be the first one!