Max DHA - Jarrow Formulas - Ultra Purified Omega-3 from Fish Oil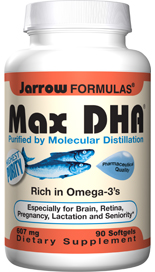 ---
Ingredients & Description
Max DHA contains highly concentrated omega-3 fatty acids from fish oil that has been ultra purified and concentrated by molecular distillation.
Max DHA meets stringent Council for Responsible Nutrition and proposed USP monographs for purity, and is purified to remove heavy metals, such as mercury, and other environmental toxins.
The predominant fatty acid in the brain, nervous system and retina of humans is DHA, an omega-3 fatty acid.* DHA is necessary for fetal and infantile neurological development during pregnancy and lactation.* DHA also helps support neurological function in seniors.*
Especially for Brain, Retina, Pregnancy, Lactation and Seniority
Take 1 to 2 softgels with each meal, or as directed by your qualified health care consultant. For pregnancy or lactation, take 1 to 2 softgels per day; for children, give 1 softgel per day.
Keep away from light and heat.
NOTE: If you have a medical condition (especially seafood allergies or coagulopathy), are pregnant or lactating, are under the age of 18, are taking medications (especially anticoagulants), or are facing surgery, consult your health care practitioner before using this product.
Other Ingredients: Fish Oil (Anchovy and Sardine). Gamma tocopherol and ascorbyl palmitate added for protection of long-chain fatty acids. Softgel consists of gelatin, glycerin and water and is colored with carob as a light barrier. This product is solvent free.
Contains: Fish (source of fish oil).
No wheat, no gluten, no soybeans, no dairy, no egg, no shellfish, no peanuts/tree nuts.
WARNING: People with seafood allergies or coagulopathy, or who are taking anticoagulants or other medications, or who are facing surgery should notify their physician before using this product.
SKU: DHA
UPC: 790011160076
Distributed or manufactured from Jarrow Formulas. See more
Jarrow Formulas
products.