All Natural Gainer, French Vanilla | MRM | Metabolic Response Modifiers | Muscle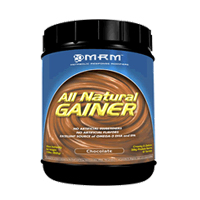 ---
Ingredients & Description
All Natural Gainer by MRM is a superb food supplement that adds useful calories to your healthy diet. Beneficial for people of all ages seeking to improve their physique in addition to an active lifestyle. Increase and maintain lean muscle mass, enhance the metabolism and burn unwanted body fat.
Through the natural process of aging, Basal Metabolic Rate decreases significantly. Unbalanced diets can cause one's metabolism to dwindle. Metabolic Response Modifiers' All Natural Gainer provides balanced nutrition in a protein-packed, high caloric formula.
Benefits:
Increases lean muscle mass
Enhances metabolism
Helps burn body fat
Balanced nutrition
Supplements Facts:
Massive Muscle Gainer
Serving Size: 3 scoops
APS
%DV
Calories
526
Calories from fat
88
Total Fat
10 g
Saturated Fat
2.5 g
Trans Fat
0 g
Cholesterol
97 mg
Sodium
225 mg
Potassium
360 mg
Total Carb
73 g
Dietary Fiber
2 g
Sugars
15 g
Protein
38 g
Vitamin A
<1%
Vitamin C
<1%
Calcium
21%
APS = Amount Per Serving
*% Daily Value (%DV) not established.