Mangosteen Liquid -Planetary Formulas- Antioxidant and Immune Support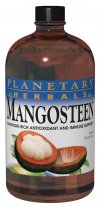 ---
Ingredients & Description
Exotic Drink with Powerful AntioxidantsContains 40 Types of Xanthones
Support for Healthy Immune and Cardiovascular Systems
Mangosteen: Xanthone-Rich Antioxidant and Immune Support
Support Against 21st Century Toxins
Urban dwellers are bombarded daily with unclean air, impure water, and the numerous toxins inherent in the 21st century. To help protect your body against environmental and lifestyle toxins, Planetary Herbals offers you Mangosteen; this delicious drink delivers effective antioxidants that help maintain immune system health.Mangosteen has been used for centuries by traditional health practitioners of India, Malaysia, Thailand, the Philippines, and Vietnam, but until recently, its fragility prevented wider cultivation or distribution to world markets. Mangosteen is rich in xanthones - antioxidants that enrich and protect the entire body. From the jungles of Southeast Asia comes an exciting plant that is extremely important for todays health!
Traditional Use- Mangosteen grows only in lush, steamy jungles. The tree has long, waxy leaves, fleshy flowers, and a small red fruit, similar in appearance to a pomegranate. The purple-red rind encases a white fruit that is segmented like an orange. Mangosteen fruit has long been treasured in the tropics of Southeast Asia and Indochina; it is now gaining worldwide fame for its wide-ranging health benefits.Xanthone-Rich NutrientsLaboratory tests have shown that the rind of the rare, tropical mangosteen contains a highly potent class of antioxidants called xanthones that offer powerful immune support. Mangosteen naturally contains 40 types of xanthones, such as mangostin, mangostenol, mangostenone A, trapezifolixanthone, and many more. Studies have shown that xanthones can strongly support healthy immune and cardiovascular systems by functioning as potent free-radical scavengers. Some xanthones have been shown to slow the activity of histamine by acting as receptor blockers.
High ORAC Value - Mangosteen rind has been found to have one of the highest ORAC values (oxygen radical absorbance capacity) currently reported of all edible plants. It efficiently helps block oxidation reactions in the tissues and blood, oxidation that enables free radicals to attack cells.
Planetary Herbals MangosteenPlanetary Herbals Mangosteen has been formulated to provide you with a powerful blend of beneficial nutrients. Foremost are the powerful xanthone antioxidants. PlanetaryHerbals Mangosteen delivers 28 mg of these high-potency antioxidants. The drink blend also includes eleuthero, schisandra, astragalus, and turmeric, botanical tonifiers that further strengthen the immune system and increase the potency and wide-ranging benefits of the drink.Known as adaptogens, eleuthero and schisandra are used to increase resistance to environmental stress, enhance performance, and stimulate immune response. Astragalus is one of the primary immune tonifiers of Chinese herbalism while the free-radical scavenger turmeric and its constituent curcumin are known for their remarkable antioxidant properties.
Lifestyle Recommendations - To support the immune system, get plenty of rest, drink plenty of water, exercise regularly, and avoid excess stress. Combining Tradition and Modern ScienceLike all of the Planetary Herbals product line, Mangosteen exemplifies Planetary Herbals commitment to herbalism at its best - combining the wisdom of traditional herbalism with the advances of modern science. Planetary Herbals Mangosteen is a convenient source of beneficial nutrients and powerful antioxidants and a perfect addition to your wellness program!
Suggested use: 1 to 2 fluid ounces daily.
Supplement Facts for LiquidServing Size: 2 fl. oz. (approx. 60 ml) Amount% DV Calories 40 g 4% Sugar 10 g - Proprietary Blend: Mangosteen Tonic Blend: Mangosteen Fruit Rind Extract (XanoMaxTM standardized to 25% flavonoids and 10% mangostins providing 28 mg of xanthones per ounce), Eleuthero Rhizome Extract (0.8% eleutherosides), Astragalus Root Extract (12:1), Schisandra Fruit and Seed Extract (10:1), and Turmeric Root.680 mg
Other Ingredients: purified water, fructose, natural flavors, potassium sorbate, potassium benzoate, xanthan gum. Warning: If you are pregnant, breastfeeding, may become pregnant or taking prescription drugs, consult your health care professional before using this product.Refrigerate after opening.Do not use if either tamper-evident seal is broken or missing. Keep out of the reach of children.
Planetary Herbals offers the best of classic herbal traditions, from Ayurvedic and traditional Chinese herbalism to the experience of Western herbal practitioners. Utilizing the knowledge of more than 30 years clinical experience, professional herbalists such as Michael Tierra, Lesley Tierra, Jill Stansbury, and Alan Tillotson, Planetary Herbals is committed to ensuring that our time-tested herbal traditions continue to evolve, grow, and flourish.
SKU: PF0568
UPC: 021078105688
Distributed or manufactured from Planetary Herbals. See more
Planetary Herbals
products.