MacaForce Dark Mint -HealthForce Nutritionals- Ancient Healing Food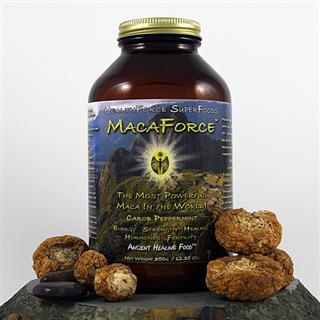 ---
Ingredients & Description
Ancient Healing Food- The Most Powerful Maca In The World!
Energy + Strength + Healing + Hormones + Fertility
MacaForce takes Maca to its full potential. Whole Root with all of the nutrients Mother Nature Intended, yet contains the potency of an extract. Carefully Selected Enzymes, Probiotics, Herbs, & Energetics provide unprecedented full-spectrum bio-availability and therapeutic value.
MacaForce is food, not a supplement. Take in any quantity you desire.
Ingredients: (100% TruGanic)* - Magnetically Sanitized & Purified
Carefully Dried to preserve enzymes, life force, & other heat sensitive elements
Ancient Superfood Sustenance:
Prebiotic Digestive Synergists:
Carob Pod
Agave Inulin
Lacuma Fruit
Yacon Root
Herbal Synergists:
Enzyme Synergists:
Protease
Amylase
Lipase
Cellulase
Bromelain
Papain
Alpha-Galactosidase
Probiotic Synergists:
Massive array of Implantable species and Natural Soil Organisms (N.S.O.s), all laboratory grown.
Energetics:
Shilajit +
Magnetic
Homeopathic
Energetic & vibrational enhancements
Suggested Usage: 100% Food. Add any quantity to water, smoothies, Etc.
Suggested Adjuncts: A whole Food, organic, Vegan diet with emphasis on fresh, high water content, live/raw foods and juices, other nutritional support products such as Vitamineral Green and Earth, Spirulina Manna or Azteca, exercise, fresh air, and anything healthful and sacred to you.
* 100% TruGanic: TruGanic is a purist, hard-core quality standard significantly beyond organic. In addition to no pesticides being used anywhere in the growing process, TruGanic includes authentic standards for production, nontoxic cleaning agents and pest control, electromagnetic radiation, processing agents, additives, air quality, and actual verification of purity.**
SKU: MFD350
UPC: 650786000369
Distributed or manufactured from HealthForce Nutritionals. See more
HealthForce Nutritionals
products.