Pure Essence Labs | LivingFlora Probiotic Complex (30 Cyro-Tabs)* | Designed for Holistic Cellular Health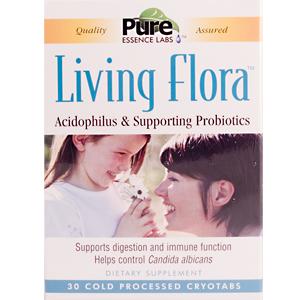 ---
Ingredients & Description
LivingFlora contains six strains of human based probiotics to support the entire digestive tract with a single supplement. Each strain is released at the appropriate time and place, so that lactobacillus salivarius can protect the stomach against h.pylorii and other pathogens; lactobacilli acidophilus, lactis, helveticus and thermophilus can protect the small intestine against listeria, salmonella, yeasts and other invaders; and bifidobacterium bifidum can protect the large intestine against problems it may encounter. The ability to release various strains at various times comes courtesy of a patented process called Controlled Delivery Technology (CDT).
CDT, however, is just the beginning of LivingFlora's superiority. Probiotics are usually offered in capsules, because traditional tabletting processes subject them to heat that can kill them. A patent pending process, called "cryo-tabletting," permits us to tablet probiotics without them being exposed to heat. This type of tablet provides the same protection that capsules do against heat, and superior protection against air, moisture and sunlight.
LivingFlora is a truly wondrous probiotic supplement. Try any other probiotic supplement you desire and then try LivingFlora. You'll see the difference in days!
New Low Prices on iFlora Probiotic Formulas from Sedona Labs. Nasal Sinus Support. Discount Catalog of Nutritional Supplements. Seacoast.com
SKU: 910
UPC: 659670009105
Distributed or manufactured from Pure Essence Labs. See more
Pure Essence Labs
products.