Liver Rescue 4 plus -HealthForce Nutritionals- Keeping the Liver Healthy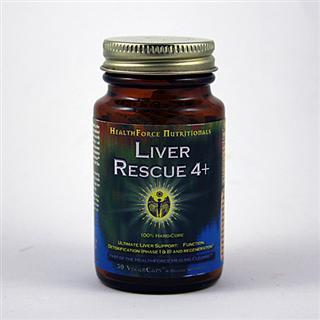 ---
Ingredients & Description
Keeping the liver healthy is essential to good health. And most people's livers are quite challenged and weakened with a toxic overload. One of the liver's functions is to filter toxic materials from the blood, and if it is not functioning at optimum levels, your health is compromised.
Poor dietary choices, alcohol use, over the counter drugs/medications, etcetera can cause liver stress. Milk Thistle can help the liver because it nutritionally supports its functioning. It can help to increase the flow of bile (which emulsifies fats and is an avenue that the liver uses to dump poisons and wastes into). When the liver is toxic, it dumps toxins into your colon via bile. Then, if you colon is toxic, (which almost everyone's is) these toxins get reabsorbed into the blood stream and much of them are sent back to the liver, and then back to the colon via bile, and then back to the liver, etc. We suggest having doing a colon cleanse and eating healthfully to support both colon and liver health.
The more toxic your colon and liver are, the more you need Liver Rescue to protect yourself. Much research has shown Milk Thistle to be able to protect the liver from the damaging effects of a wide variety of common toxins, including alcohol.
Milk Thistle is also a powerfully effective antioxidant, and it can increase glutathione reductase levels (this is a crucial metabolic antioxidant enzyme) in liver cells. Milk Thistle's antioxidant and other properties positively affect other areas of the body as well.
Ingredients:
Serving Size: 2 VeganCaps
Milk Thistle Seed Extract ( Silybum Marianum standardized to 80% Silymarin). - 600 mg
Dandelion Root Extract ( Taraxacum Officinale) (4:1)... - 200 mg
Wasabia Japonica ( root)... - 100 mg
Picrorhiza Kurroa ( 10% kutkin) ... - 100 mg
Total Herbal Extracts per 2 VeganCaps = 1000 mg
Other ingredients: NONE - No flow agents or fillers.
** Daily Value not Established.
SKU: LR30
UPC: 650786000468
Distributed or manufactured from HealthForce Nutritionals. See more
HealthForce Nutritionals
products.