Liver PF - Jarrow Formulas - Protective Factors for Liver Health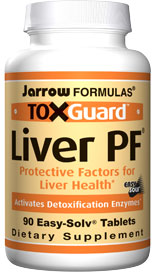 ---
Ingredients & Description
Protective Factors for Liver Health* Activates Detoxification Enzymes*
Liver PF® combines herbs and other nutrients known to support the liver's detoxification functions.* It is especially directed toward the Phase 2 enzymes, which remove toxins in the liver.* Artichoke and milk thistle extracts have been shown to protect liver glutathione levels and to enhance the synthesis and release of bile, an action important for the elimination of toxins from the body.* PicroMax™ contains the compound kutkin that, like silymarin flavonoids in milk thistle, supports the liver's natural regenerative ability, most likely through a stimulation of protein and nucleic acid synthesis.* Pantethine activates alcohol metabolizing enzymes and is a co-factor in carbohydrate and lipid metabolism.* Alpha lipoic acid is an important antioxidant in its own right that also helps the liver regenerate glutathione.* N-acetyl-L-cysteine (NAC) serves as a precursor to glutathione.* Uridine is important in the biosynthesis of DNA and in the preservation and transfer of genetic information.*
Take 3 tablets per day, preferably one with each meal, or as directed by your qualified health care consultant.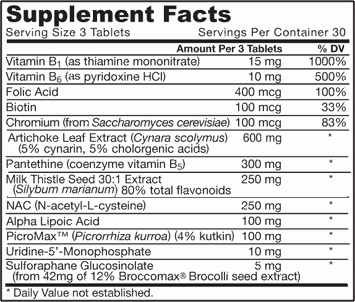 NOTE: If you have a medical condition (especially diabetes or being treated for glucose control), are pregnant or lactating, are under the age of 18, or are taking medications (especially for glucose control), consult your health care practitioner before using this product.
SKU: LIVER
UPC: 790011290124
Distributed or manufactured from Jarrow Formulas. See more
Jarrow Formulas
products.