Liver Defense -Planetary Formulas- Immune Support for the Liver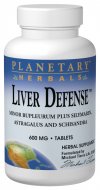 ---
Ingredients & Description
Good liver health is vital for good general health. The liver is a primary organ of detoxification. Its maintenance and support has traditionally been important in Chinese herbalism.
Planetary Formulas Liver Defense is based on one of the most well researched Chinese formulas for liver health, Minor Bupleurum, also known as Sho-Saiko-To in Japan. Modern studies show that Sho-Saiko-To supports healthy liver function and enhanced immune response.
Planetary Formulas Liver Defense contains some of the primary liver protecting botanicals of Chinese herbalism such as bupleurum and Chinese skullcap along with the primary immune and liver supportive botanicals astragalus, schizandra and milk thistle. The latest scientific research not only confirms the wisdom of these and other time-honored herbs, it offers particular benefits to our contemporary world.
This clinically derived Planetary Formula delivers proven components for liver protection and revitalization.The liver is one of the most challenged organs in the body. In fact, it is estimated that one in every 10 Americans has sub-optimal liver health. The liver can become overburdened because it plays important roles in detoxification, hormonal balance, fat regulation, nutrient and enzyme activation, digestion and circulation. It manufactures and secretes bile in order to absorb fat-soluble nutrients and eliminate toxic substances.
Liver Defense contains ingredients that have been shown in scientific research to support healthy liver enzyme levels and enhance immune response by promoting healthy cytokine levels. This formulas ingredients have even been shown to support the bodys own interferon production-the complex protein that bolsters individual cell defense mechanisms. The liver is also the only organ in the body that regenerates itself. Many of the herbs in Liver Defense support this regenerative process.
Liver Support Many studies have been done on Sho-Saiko-To confirming its ability to enhance immune response and support healthy liver function.
Centerpiece of the formula is Bupleurum, a primary liver protecting botanical that contains an important class of compounds known as saikosaponins.
Astragalus, to stimulate the immune system, protect the liver, stimulates natural killer cell activity and normalizes liver enzyme levels.
Milk Thistle, which has been extensively studied for its liver supportive activity.
Schizandra has been shown to improve liver enzyme levels in humans and provide liver protection in animal studies.
Additional liver supportive herbs include licorice root, jujube, ginseng, Chinese skullcap, and ginger root.
Suggested use: 2 tablets twice daily.
Supplement Facts for 600 mg TabletServing Size: 2 Tablets Amount%DV Calories 5 Total Carbohydrates 1 g <1% Dietary Fiber 1 g 4% Sodium 5 mg <1% - Proprietary Blend: Astragalus Root, Asian Ginseng Root Extract (8% ginsenosides), Milk Thistle Seed Extract (83% silymarin), Bupleurum Root Extract (5% saikosaponin), Licorice Root Extract (4:1), Jujube Fruit Extract (6:1), Schisandra Fruit Extract (10:1), Ginger Root Extract (5% gingerol), Chinese Scullcap Root Extract (30% flavones), and Chinese Scullcap Root Extract (80% baicalin).1.2 g
Other Ingredients: microcrystalline cellulose, sorbitol, modified cellulose gum, stearic acid, colloidal silicon dioxide.Contains wheat/gluten.Warning: Not for use by women who are pregnant, may become pregnant, or breastfeeding. Consult your physician before use if you are currently taking Interferon, birth control medication, any prescription drug, or if you have a family history of hypertension. Discontinue use immediately and consult your physician if you develop a fever or dry cough, or have difficulty breathing.STORE IN A COOL, DRY PLACE.Do not use if either tamper-evident seal is broken or missing. Keep out of the reach of children.Suggested Use: 2 tablets twice daily.
Planetary Herbals offers the best of classic herbal traditions, from Ayurvedic and traditional Chinese herbalism to the experience of Western herbal practitioners. Utilizing the knowledge of more than 30 years clinical experience, professional herbalists such as Michael Tierra, Lesley Tierra, Jill Stansbury, and Alan Tillotson, Planetary Herbals is committed to ensuring that our time-tested herbal traditions continue to evolve, grow, and flourish.
SKU: PF0546
UPC: 021078105466
Distributed or manufactured from Planetary Herbals. See more
Planetary Herbals
products.