Liquid Yeast - TwinLab - Science Based Nutrition Providing Answers for Life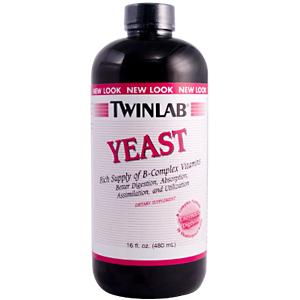 ---
Ingredients & Description
As a dietary supplement, take two tablespoonsful daily. May be mixed with your favorite juice. Shake well before using.
Supplement Facts:
L-Proline 435 Milligrams L-Serine 440 Milligrams Biotin 300 micrgrams 100% *Essential Amino Acids 0 Vitamin B6 2 Milligrams 100% L-Histidine 250 Milligrams Total Carbohydrate 6 gr 2% Protein 11 gr 22% Thiamin 1.5 Milligrams 100% Niacin 20 Milligrams 100% L-Tyrosine 475 Milligrams Folic Acid 400 micrgrams 100% Vitamin B12 6 micrgrams 100% Glycine 495 Milligrams Vitamin B2 1.7 Milligrams 100% Choline 3 Milligrams **The L-Tryptophan in the product is naturally present in the protein. It is not added or manufactured 0 L-Glutamic Acid 1310 Milligrams Enzymatic Digested Yeast 15000 Milligrams Inositol 2 Milligrams *L-Leucine 730 Milligrams *L-Isoleucine 580 Milligrams *L-Valine 660 Milligrams *L-Lysine 845 Milligrams *L-Methionine 250 Milligrams *L-Phenylalanine 465 Milligrams *L-Tryptophan** 135 Milligrams L-Arginine 510 Milligrams L-Aspartic Acid 1030 Milligrams L-Cystine 125 Milligrams L-Alanine 705 Milligrams *L-Threonine 437 Milligrams Pantothenic Acid 10 Milligrams 100%
Other Ingredients: Filtered Water, Enzymatic Digested Low Sodium Yeast, Malt Extract, Molasses, Brewer's Yeast, Citric Acid, Cherry Flavor, Methylparaben, Sodium Benzoate, Color, Niacinamide, Dexpanthenol, Mannitol, Propylparaben, Sorbic Acid, Vitamin B6, Thiamin Hydrochloride, Riboflavin 5'-Phosphate Sodium, Folic Acid, Biotin, Vitamin B12
Warning:
Packaged in high quality, shatterproof bottle. If you are pregnant or nursing, taking any medication or have any medical condition, consult a health care professional before use. Keep out of reach of children.
SKU: TW0647
UPC: 027434011037
Distributed or manufactured from TwinLab. See more
TwinLab
products.