Liquid Multi (Berry 16 oz) - NOW Foods -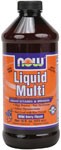 ---
Ingredients & Description
Liquid Multi Wild Berry Vegetarian Non-GE- 16 oz.
NOW Foods
Liquid Vitamin & Mineral High Potency - Fast Absorption Added Phytonutrients Stabilized with Rice Protein Wild Berry Flavor Iron-Free With Xylitol Vegetarian Formula This unique formula utilizes brown rice protein as a stabilizing agent for maximum bioavailability of the vitamins, minerals and phytonutrients.
Supplement Facts
Liquid Multi Wild Berry Vegetarian Non-GE- 16 oz.
APS
%DV
(as pro-Vitamin A 1.2 mg)]
Aloe Vera Juice
50 mg
Biotin
100 mcg
0.35
Calcium (from Calcium Carbonate)
25 mg
0.03
Calories
25
Choline (from Choline Bitartrate)
25 mg
Chromium (from Chromium Chelavite® AAC)
10 mcg
0.08
Citrus Bioflavonoids
10 mg
Colloidal Minerals (Fulvic Acid)
50 mg
Folate (as Folic Acid)
400 mcg
1
Grapeseed Extract (Vitis Vinifera) (90% Polyphenols)
10 mg
Inositol
25 mg
Iodine [from Kelp (Laminaria digitata)]
75 mcg
0.5
Kelp (Laminaria digitata)
15 mg
Lutein (from Marigold Extract)
100 mcg
Lycopene (from Natural Tomato Extract)
100 mcg
Magnesium (from Magnesium Oxide)
10 mg
0.03
Manganese (from Manganese AAC)
2 mg
1
Potassium (fromPotassium Chloride)
25 mg
<1%
Riboflavin (Vitamin B-2)
10 mg
5.9
Rice Protein Concentrate (from Non-GMO Brown Rice)
30 mg
Selenium (from Selenopure L-Selenomethionine)
15 mcg
0.2
Serving Size:
1 Tablespoon
Servings Per Container:
31
Sugar Alcohols (as Xylitol)
3 g
Total Carbohydrate
6 g
2%*
VitaBerry® HI-ORAC Fruit Blend
50 mg
Vitamin A [from 60% Retinyl Palmitate & 40 % Beta-Carotene
5,000 IU
1
Vitamin B-1 (from Thiamine Hydrochloride)
10 mg
6.7
Vitamin B-12 (as Cyanocobalamin)
100 mcg
16.7
Vitamin B-3 (from Niacinamide)
25 mg
1.25
Vitamin B-5 (from Calcium d-Pantothenate)
25 mg
2.5
Vitamin B-6 (from pyridoxine hydrochloride)
10 mg
5
Vitamin C (as Ascorbic Acid)
250 mg
4.2
Vitamin D (as Ergocalciferol)
400 IU
1
Vitamin E (from d-alpha Tocopheryl Acetate)
100 IU
3.3
Wild Berry Concentrate
175 mg
Zinc (from Zinc AAC)
3 mg
0.2
Serving Size: 1 Tablespoon Servings Per Container: 31 Suggested Usage: Shake well. As a dietary supplement, For Adults: take 1 tablespoon (15 mL) 1 to 2 times daily with meals. For Children 4 years and older: take 1 teaspoon (5 mL) 1 to 2 times daily with meals. Other Ingredients: De-ionized Water, Vegetable Glycerin, Xylitol, Natural Flavors, Non-GMO Soy Lecithin, Citric Acid, Malic Acid, Xanthan Gum and Potassium Sorbate. Vegetarian/Vegan Product. Contains no: salt, starch, yeast, wheat, gluten, milk, egg or artificial colors or flavors. Shake well before use. Refrigerate after opening to preserve flavor.
California Prop 65 Warning: This product contains lead, a chemical known to the State of California to cuase birth defects or other reproductive harm.
SKU: 3773
UPC: 733739037732
Distributed or manufactured from NOW Foods. See more
NOW Foods
products.