Liquid Multi Vita-Mineral-Berry (32oz) - Trace Minerals Research - Prenatal Nutrition, Mature Bone Health, Increased Energy &Stamina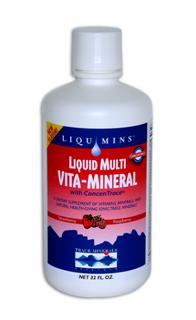 ---
Ingredients & Description
Liquid Multi Vita-Mineral is the most complete all-in-one liquid daily supplement that combines the benefits of multiple vitamins with the advantages of ionic trace minerals to replace those needed minerals not found in processed foods. The ionic trace minerals act as catalysts for all the multiple vitamins found in Liquid Multi Vita-Mineral. More than just a multi-vitamin, Liquid Multi Vita-Mineral is enhanced with calcium, antioxidant vitamins, B-complex vitamins, and ionic trace minerals.
This great tasting liquid blend has been formulated with essential vitamins and minerals for prenatal nutrition, mature bone health, and increased energy and stamina. Imagine a complete synergistic daily supplement so powerful that many people feel a difference the very first day. That's Liquid Multi Vita-Mineral.
Liquid Multi Vita-Mineral with ConcenTrace® is a powerful dietary supplement formulated for the nutritional needs of men and women.
Suggested Use: Shake well before using. Mix 1 ounce with a glass of juice or water. Refrigerate after opening.
Supplement Facts
Liquid Multi Vita-Mineral
Serving Size:1 ounce (1 capful)
APS
%DV
Calories
39
2%
Total Carbohydrates
9.3 g
29%
Sugar (from Natural Fruit Concentrate)
2.5 g
1%
Vitamin A (as Beta Carotene)
5000 IU
100%
Vitamin A (Palmitate)
5000 IU
100%
Vitamin C (as Ascorbic Acid)
300 mg
500%
Vitamin D3 (Cholecalciferol)
400 IU
100%
Vitamin E (d-alpha tocopherol)
60 IU
200%
Vitamin K (Menadione)
80 mcg
100%
Vitamin B-2 (Riboflavin)
3.4 mg
200%
Vitamin B-1 (Thiamin HCL)
3 mg
200%
Vitamin B-3 (Niacinamide)
40 mg
200%
Vitamin B-6 (Pyridoxine)
4 mg
200%
Folate (Folic Acid)
400 mcg
100%
Vitamin B-12 (cyanocobalamin)
6mcg
100%
Biotin
300 mcg
100%
Panothenic Acid (Calcium Pantothenate)
20 mg
200%
Calcium (from Citrate Malate, Tricalcium Phosphate)
600 mg
50%
Magnesium (Citrate, ConcenTrace®)
300 mg
50%
Phosphorous
190 mg
19%
Zinc (Citrate)
15 mg
100%
Iodine (Potassium Iodide)
150 mcg
100%
Selenium (Selenium Methionine)
200 mcg
286%
Manganese (Gluconate)
5 mcg
250%
Chromium (Amino Acid Chelate)
120 mcg
100%
Chloride (from Concentrace)
18 mg
1%
Molybdenum (Sodium)
75 mcg
100%
Boron (Chelate)
1 mg
200%
Copper (Amino Acid Chelate)
2 mg
100%
Potassium (from Potassium Iodide, Sorbate and Trace Min.)
54 mg
2%
ConcenTrace® (Ionic Trace Minerals)
457 mg Tot.
**
Inositol
50 mg
**
Choline (Bitartrate)
25 mg
**
Citrus Bioflavanoids
25 mg
**
Amino Acid Complex
10 mg
**
Aloe Vera Extract (200:1)
2 mg
**
*Daily Value (DV) based on a 2,000 calorie diet. **Daily Value not established.
Ingredients: Beta Carotene, Vitamin A, Vitamin C, Vitamin D-3, Vitamin E, Vitamin K, Vitamin B-1, Vitamin B-2, Vitamin B-3, Vitamin B-6, Vitamin B-12, Folic Acid, Biotin, Pantothenic Acid, Choline Bitartrate, Inositol, Amino Acid Blend, Aloe Vera Extract, Citrus Bioflavonoids, Calcium Citrate, Tricalcium Phosphate, Magnesium Citrate, Zinc Gluconate, Potassium Iodide, Selenium Methionine, Manganese Gluconate, Chromium Amino Acid Chelate, Boron Chelate, Molybdenum Sodium, Copper Gluconate & Ionic Trace Minerals, in a liquid base of: Purified Water, Natural Vegetable Glycerine, Mixed Fruit Concentrate (Peach, Pear, Pineapple), Natural Flavors Blend, Xanthan Gum, Citric Acid, Sodium Benzoate, and Potassium Sorbate (for freshness).
Allergen Info: contains derivatives from corn.
SKU: LVM03
UPC: 878941001260
Distributed or manufactured from Trace Mineral Research. See more
Trace Mineral Research
products.