Liquid CellEnergy - Trace Minerals Research - Ionic Trace Minerals, Fulvic Acid, and Plant Derived Enzymes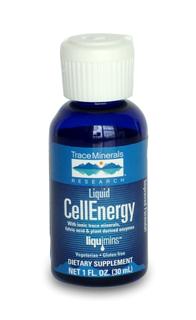 ---
Ingredients & Description
Ionic Trace Minerals, Fulvic Acid, and Plant Derived Enzymes
Restoring and maximizing oxygen saturation in the cells naturally may be extremely helpful in restoring balance in the body.ÃÂ Liquid CellEnergyÃÂ is designed to distribute oxygen to the cells without any artificial stimulation. While eating, drinking, and merely living our normal daily lives, we are constantly taking unnatural synthetic non-food substances into our bodies. Preservatives, artificial colorings, flavorings, smog, artificial chemicals, hydrogenated oil, and fumes all contribute to the oxygen depletion in our bodies, not to mention the stress of everyday living.
Liquid CellEnergy may promote the following:
Increased endurance and stamina
Improved circulation
Cellular detoxification
Increased cellular oxygenation
Fulvic acid is a carbohydrate material derived from the break down of ancient plant deposits containing an immense array of naturally-occuring phytochemicals, biochemicals, antioxidants, free-radical scavengers, amino acids, nutrients, and much, much more.
Research has shown that increased oxygenation not only supports healthy cell function, but it also may help to neutralize free radicals, oxidize waste, reduce lactic acid build up in the muscles after exercise for enhanced physical performance, among other things. Heightened acidity and insufficient oxygenation (ÃÂacid hypoxiaÃÂ) has been known to help set the stage for health imbalances to occur.
Some benefits of Fulvic Acid may be to:
Enhance trace element bioavailability
Stimulate and enhance immune system function
Increase oxygen in the blood
Increase enzyme activity
Intensify the metabolism of proteins
Help balance hormones
Act as a super antioxidant and detoxifier to reduce free radicals and heavy metals in the body
Assist mental clarity, alertness, focus and concentration
Act as a powerful electrolyte to stimulate cell activity
Regenerate and prolong the residence time of essential nutrients in the cells
Enhance the permeability of cell membranes
Liquid CellEnergy may be taken in water or juice, but research has shown that water is more essential for cleansing and hydration. In addition, this product requires water to work. Therefore, we suggest it be taken in water.
Do the flu-like ÃÂcleansing symptomsÃÂ mean IÃÂm getting sick?
No. These ÃÂflu-likeÃÂ detoxification symptoms mean Liquid CellEnergy is working and are a sign of natural cleansing. Molecules of pure oxygen and hydrogen are going to work right away in the cells to empower all cell functions, including the release of cellular toxins. If you find yourself detoxifying more rapidly than is comfortable, simply drop down in the number of drops, keep your water level high for cleansing and hydration, and build up again gradually. Take your time increasing drops. There is no rush to get the maintenance amount on the label. However, if flu-like symptoms persist or worsen, even after you have decreased the number of drops per day, consult a physician immediately.If you are pregnant, nursing, or under medical care, consult your health practitioner prior to use. Do not use if seal is broken or damaged.
Suggested Use: Dilute 7 drops in 6-8 oz. of purified water or juice 3 times daily. Children over age 4 may use ¼ to ½ of the adult amount.
Supplement Facts
Liquid CellEnergy
Serving Size: 7 drops
APS
%DV
Proprietary Energy Blend
326 mg
**
Purified Water, ConcenTrace® Ionic Trace Minerals, Hydrogen Sulfate, Glucono Delta Lactone, Citric Acid, Fulvic Acid, Arginine, Methionine, Ornithine, Glutamic Acid, Protease, Amylase, Lipase, Cellulase, and Rice Vinegar.
**Daily Value not established.
Allergen Info: contains no known allergens.
SKU: LCEL01
UPC: 878941000734
Distributed or manufactured from Trace Mineral Research. See more
Trace Mineral Research
products.