Life Extension Mix Powder (4.65 oz) - LifeExtension -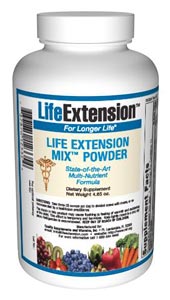 ---
Ingredients & Description
LifeExtension- Nutritional Supplements, Antiaging, Health and Nutrition
Life Extension Mix™ Powder 4.65 oz
You hear it almost every day. Be it government health agencies or private organizations, the unanimous directive is for Americans to eat more fruits and vegetables to maintain a healthy lifestyle.
Supplement Facts
Serving Size 3 scoops (per day)Servings Per Container 11 Amount Per ServingVitamin A (as 54% Betatene® D. salina natural beta-carotene with mixed carotenoids1 and 46% acetate) 5000 IUVitamin C (as calcium ascorbate, ascorbic acid, ascorbyl palmitate, magnesium ascorbate, niacinamide ascorbate, and acerola juice powder) 2000 mgVitamin D3 (as cholecalciferol) 1000 IUVitamin E (as D-alpha tocopheryl succinate) 400 IUThiamine (vitamin B1) (as thiamine HCI) 125 mgRiboflavin (vitamin B2) (with 2 mg riboflavin 5 phosphate coenzyme) 50 mgNiacin (vitamin B3) (as 53% niacinamide, 38% niacin, 9% niacinamide ascorbate) 190 mgVitamin B6 (100 mg as pyridoxine HCI, 50 mg pyridoxamine from pyridoxamine DiHCI, and 2.5 mg pyridoxal 5 phosphate coenzyme) 150 mgFolic acid 800 mcgVitamin B12 (as 42% cyanocobalamin, 42% hydroxylcobalamin, 16% ion exchange resin) 600 mcgBiotin 3000 mcgPantothenic acid (as D-calcium pantothenate with 5 mg pantethine) 600 mgCalcium (as calcium carbonate, calcium ascorbate, D-calcium pantothenate, Calcium D-Glucarate2)218 mgIodine (as potassium iodide) 75 mcgMagnesium (as magnesium oxide, citrate, glycinate, taurinate, arginate, ascorbate) 400 mgZinc [as methionate (OptiZinc®3), zinc succinate] 35 mgSelenium [as 50% se-methylselenocysteine, 25% L-selenomethionine (yeast free) (SelenoPure4), and 25% sodium selenate] 200 mcgCopper (as copper bisglycinate chelate) 1 mgManganese (as manganese gluconate)1 mgChromium (as Chromium 4545 bio-organic yeast extract matrix) 500 mcgMolybdenum (as sodium molybdate) 125 mcgPotassium (as potassium chloride) 37.4 mgN-acetyl-L-cysteine (NAC) 600 mgTaurine 200 mgInositol 250 mgPhosphatidylcholine (from soy) 150 mgCholine (as choline bitartrate) 120 mgBoron (as boron citrate/aspartate/glycinate complex) 3 mgAscorbyl palmitate (fat-soluble vitamin C) 250 mgpara-aminobenzoic acid (PABA) 200 mgTrimethylglycine (TMG) (as betaine anhydrous) (from sugar beets) 100 mgAlpha-carotene 100 IUCitrus bioflavonoid complex [50% total flavonoids (100 mg), typically as 35% hesperidin, 14% other flavonones, and 1% other phenolic compounds] 200 mgBroccoli sprout concentrate (A proprietary blend of broccoli sprout concentrates and Calcium D-Glucarate2) (providing sulforaphane, glucosinolates, D-3T, and PEITC)525 mgCalcium D-Glucarate2 200 mgDecaffeinated Green tea (Camellia sinensis) extract (leaf) [std. to 98% polyphenols (318.5 mg) and 45% Epigallocatechin gallate (EGCG) (146.25 mg)] 325 mgAcerola juice extract powder 4:1 (Malpighia punicifolia) (fruit) 300 mgGinger root extract (Zingiber officinale) (root) [standardized to 5% gingerols (10 mg)] 200 mgHiActives 100% fruit/berry complex (A proprietary blend of concentrated blackberry, blueberry, cranberry, elderberry, persimmon, plum, and cherry powders) 200 mgVitaBlue®6 Wild Blueberry (Vaccinium angustifolium) 130:1 extract (fruit) [standardized to 14% Total Phenolics (21 mg), 4.9% Total Anthocyanins (7.35 mg), 660 ppm Pterostilbene (0.1 mg)] 150 mgCocoaGold cocoa (Theobroma cacao L.) extract (bean) [standardized to 45% polyphenols (30 mg)] 67 mgMilk thistle extract (Silybum marianum) (seeds) [standardized to 85% silymarin (85 mg)] 100 mgPomella®11 Pomegranate (Punica granatum) extract (fruit) [std. to 30% punicalagins (25.5 mg)] 85 mgBilberry extract (Vaccinium myrtillus) (berry) [standardized to 25% anthocyanidins (7.5 mg)] 30 mgLeucoselect®7 grapeseed extract (Vitis vinifera) (seeds) [std. to 95% proanthocyanidins (23.75 mg)] 25 mgBioVin®8 grape extract (Vitis vinifera) (whole grapes) [std. to minimum 95% proanthocyanidins (23.75 mg), minimum 75% total polyphenols as gallic acid monohydrate (18.75 mg), minimum 200 ppm trans-resveratrol] 25 mgBromelain (from pineapple) (2400 gelatin digestive units per gram) 15 mgLutein (purified concentrate from marigold flowers) (Tagetes erecta) (providing 465 mcg zeaxanthin) 15 mgOlive juice extract (fresh fruit) [6% hydroxytyrosol (0.75 mg), 3% oleuropein (0.38 mg)] 12.5 mgSesame (Sesamum indicum) lignan extract 10 mgLuteolin (high purity luteolin, as Pureolin9) 8 mgLycopene (from natural tomato extract) (Lyc-O-Mato®10)3 mgOther ingredients: maltodextrin, natural orange flavor, stevia.Contains soybeans and tree nuts (cocoa beans). Contains corn and sesame. This product contains NO milk, egg, fish, peanuts, crustacean shellfish (lobster, crab, shrimp), wheat, yeast, gluten, or rice. Contains NO artificial sweeteners, flavors, or colors.1- Betatene® is a registered trademark of Cognis Nutrition and Health. 2- The use of Calcium D-Glucarate is licensed from Applied Food Sciences, LLC under U.S. Patent No. 4,845,123. 3- OptiZinc® is a registered trademark of InterHealth Nutritionals, Inc. 4- SelenoPure is a trademark of Nutrition 21. 5- Chromium 454 is a trademark of VDF Futureceuticals, Inc. 6- VitaBlue® is a registered trademark of VDF Futureceuticals, Inc. 7- Leucoselect® is a registered trademark of Indena S.p.A. 8- BioVin® is a registered trademark of Cyvex Nutrition. 9- Pureolin is a trademark of Pharma Science Nutrients, Inc., and is used here under license. All rights reserved worldwide. 10- Lyc-O-Mato® is a registered trademark of LycoRed Natural Products Limited. 11- Pomella® is a registered trademark of Verdure Sciences, Inc.Dosage and Use Take three scoops per day in divided doses with meals, or as recommended by a healthcare practitioner.
SKU: 1233
UPC: 737870123354
Distributed or manufactured from Life Extension. See more
Life Extension
products.