Kudzu Recovery -Planetary Formulas- For Anti-Alcohol Support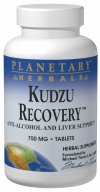 ---
Ingredients & Description
Full Spectrum Kudzu & Kudzu RecoveryFor Anti-Alcohol Support Used traditionally in Chinese herbalism to safely treat the abuse of alcohol. Combines a Full Spectrum blend of kudzus flowers and roots with a powerful root extract. Naturally contains isoflavonoids and saponins that provide anti-alcohol support. Supports the liver. Helps the bodys normal detoxification processes. Provides traditionally recommended dosage.Kudzu (Pueraria lobata)You may have heard about kudzu lately. It's gotten a lot of mainstream attention due to recent a Harvard University study on the plants ability to help decrease consumption of alcohol in human subjects. But that study, published in Alcoholism: Clinical and Experimental Research, only serves to demonstrate what Planetary Formulas and Chinese herbalism have long known, that kudzu is the premier herb for managing alcohol intake!And now Planetary Formulas offers you two ways to take advantage of the time-tested benefits of this remarkable botanical: Full Spectrum Kudzu, and Kudzu Recovery. Full Spectrum Kudzu provides the roots, flowers, and a high potency standardized extract to deliver a Full Spectrum of kudzu's constituents and benefits. Additionally, Kudzu Recovery contains a centuries old Chinese formula offering all the benefits of kudzu plus key botanicals to support liver cleansing, balanced blood sugar levels and enhanced energy.Planetary Formulas offer the best of classic herbal traditions, integrating herbal formulas used continuously for thousands of years with the latest findings of clinical pharmacological research.History & Use Kudzu is a fast growing evergreen vine native to parts of Asia, and an invasive species in much of the southeastern United States, where it was initially introduced to help fight soil erosion. First written about in 206 B.C., this unique botanical was popularized by macrobiotics proponents as a food thickener, and continues to be included in Chinas official pharmacopoeia. Although the entire plant is edible, kudzu's health supporting benefits come primarily from its flowers and roots, which contain several natural compounds including isoflavonoids and saponins. While the roots and flowers of the common kudzu have been used historically in Chinese herbalism for anti-alcohol support, it has also used to support winter health and relax tightness and spasms of the neck and shoulders and is a key component of Neck and Shoulder Support by Planetary Formulas.Validated Through ResearchThough it's been used in Chinese herbalism to reduce abuse of alcohol for more than a millennium it is only within the last decade that its actions in this respect have been scientifically examined. The latest research on effects were reported. Similar reductions in alcohol consumption have been observed in numerous pre-clinical studies.Kudzu RecoveryBased on a 350-year old Chinese herbal formula for "drunkenness", Kudzu Recovery provides a blend of both the root and flowers of kudzu in conjunction with key botanicals like coptis, codonopsis, and ginger, which support liver health, the nervous system, and detoxification processes. This gives the benefits of kudzu while supporting other systems necessary for the healthful management of alcohol intake.
Suggested use: 2 tablets twice daily between meals.
Supplement Facts for 750 mg TabletServing Size: 2 tablets Amount%DVProprietary Blend: Kudzu Root, Kudzu Flower, Hovenia Fruit, Coptis Root, Poria Sclerotium, Zhu Ling Sclerotium, Bai-Zhu Atractylodes Rhizome, Codonopsis Root, Shen Qu-Massa Fermentata Extract (5:1), Cardamom Fruit, and Ginger Root.1.5 g
Other Ingredients: sorbitol, stearic acid, colloidal silicon dioxide, modified cellulose gum, magnesium stearate.Contains wheat/gluten.Warning: Do not use if you are pregnant, may become pregnant, or breastfeeding.STORE IN A COOL, DRY PLACE.Do not use if either tamper-evident seal is broken or missing. Keep out of the reach of children.Suggested Use: 2 tablets twice daily between meals.
Planetary Herbals offers the best of classic herbal traditions, from Ayurvedic and traditional Chinese herbalism to the experience of Western herbal practitioners. Utilizing the knowledge of more than 30 years clinical experience, professional herbalists such as Michael Tierra, Lesley Tierra, Jill Stansbury, and Alan Tillotson, Planetary Herbals is committed to ensuring that our time-tested herbal traditions continue to evolve, grow, and flourish.
SKU: PF0235
UPC: 021078102359
Distributed or manufactured from Planetary Herbals. See more
Planetary Herbals
products.