Jarrosil Activated Silicon - Jarrow Formulas - Strengthens Bones, Joints & Collagen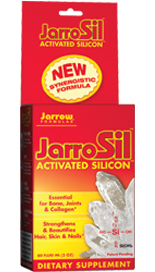 ---
Ingredients & Description
Essential for Bone, Joints & Collagen* Strengthens & Beautifies Hair, Skin & Nails*
JarroSil is a synergistic formulation of highly bioavailable silicon. It is an essential partner of calcium for bones, glucosamine for joints, and antioxidants for supple and healthy arteries. JarroSil also supports smooth skin, strong nails and healthy hair.*
The Importance of Silicon
Silicon is a trace mineral required for the formation of healthy connective tissue, bone, skin, hair and nails.* Silicon is important for collagen formation, healthy arteries and efficient calcium deposition in bones.* Boron and zinc are added to enhance silicon metabolism. JarroSil is manufactured using the latest technology for enhanced bioavailability, stability and improved taste. Stabilized silicic acid is converted to highly bioavailable ortho- and disilicic acids upon dissolution in liquids and in the stomach.
JarroSil is a patent pending Activated Silicon formula, containing stabilized molecular clusters of silicic acid, which provides a biologically active form of silicon upon dissolution into liquids.
Take 10 drops per day; mix into 4 to 8 ounces water or juice and drink promptly.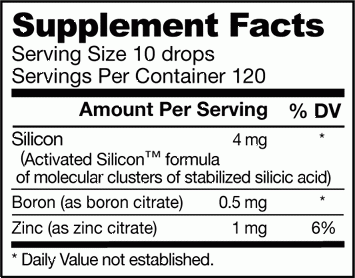 Other Ingredients: Deionized water and polyethylene glycol.
No wheat, no gluten, no soybeans, no dairy, no egg, no fish/shellfish, no peanuts/tree nuts.
Store at or below room temperature.
WARNING: Avoid contact with eyes. Do not take this product if you are pregnant or lactating.
Jarro-Dophilus Enhanced Probiotic System (EPS) s the best probiotic to promote healthy intestinal microflora and support immune function.
SKU: JSIL60
UPC: 790011130178
Distributed or manufactured from Jarrow Formulas. See more
Jarrow Formulas
products.