Jarro-Dophilus EPS - Jarrow Formulas - For Intestinal and Immune Health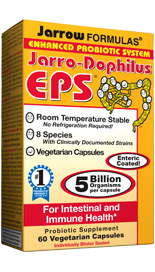 ---
Ingredients & Description
Jarro-Dophilus EPS is a Stable-Dophilus due to its stability at room temperature and enteric coating which protects the probiotic bacteria from stomach acid. Eight (8) different strains of probiotic bacteria are delivered directly into the small intestines where probiotic bacteria fully exert their beneficial effects.* Probiotic bacteria in Jarro-Dophilus EPS are selected from the following 4 genera:
Lactobacillus, Bifidobacteria, Lactococcus and Pediococcus.
Strains in Jarro-Dophilus EPS promote healthy intestinal microflora, which in turn helps to support intestinal health and immune function. Bifidobacteria Iongum BB536 (Morinaga strain) has been clinically shown to stimulate immune response and suppress intestinal putrefactive bacteria.* L. rhamnosus R0011 is a unique, high producer of polysaccharides that facilitate colonization and stimulate intestinal immune response.* L. acidophilus R0052 assists in breaking down lactose (milk sugar) which may improve digestion of dairy products by those individuals who are lactose intolerant.* Lactococcus and Pediococcus help reduce spoilage caused by unfriendly bacteria in fermented foods.*
STORAGE: Jarro-Dophilus EPS is room temperature stable and does not require refrigeration. Refrigerating Jarro-Dophilus EPS is optional and will further extend the shelf-life by safeguarding the product from heat, especially during the hot summer months. Blister packaging each capsule provides extra protection to the probiotic bacteria against external moisture and oxygen.
Jarro-Dophilus EPS is ideal for traveling when refrigeration is not readily available. Capsules individually blister packed to help ensure shelf stability.
Take 1 to 4 capsules per day in divided doses. Capsules should preferably be taken on an empty stomach, though they may also be taken with food, or as directed by your qualified health care consultant.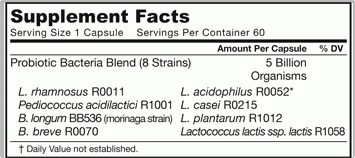 Other Ingredients:Potato starch, magnesium stearate (vegetable source), and ascorbic acid. Vegetarian capsule consists of hydroxypropylmethylcellulose and an aqueous-based enteric coating.
Contains: Soy (less than 0.1%) and milk (casein, less than 0.01%).
No wheat, no gluten, no egg, no fish/shellfish, no peanuts/tree nuts.
For Intestinal and Immune Health*
Jarro-Dophilus Enhanced Probiotic System (EPS) s the best probiotic to promote healthy intestinal microflora and support immune function.
SKU: JEPS
UPC: 790011030201
Distributed or manufactured from Jarrow Formulas. See more
Jarrow Formulas
products.
---
Questions and answers:
Asked on: May 30, 2013
Question: What does the EPS stand for? Is there DDS-1 in any of Jarro-Dophilus products. I see that this question was asked before but not answered.


Asked on: September 13, 2013
Question: Can you have too many probiotics? Sorry if that is a silly qeoutisn. I'm a newbie to the naturalholistic lifestyle. I'm going to start making kefir so I wasn't sure if my 2.5 year old would get enough from a daily glass of that or if he needs a supplement as well. I do have an appointment with our family doctor to discss this, and other supplements, but I'm not sure she'll be able to direct me properly. Would he need a multivitamin also or target supplements? Thanks for your advice and information! I love your page!!
This questions has not been answered yet. Be the first one!