Iso-Rich Soy - Jarrow Formulas - Increase Your Intake of Protein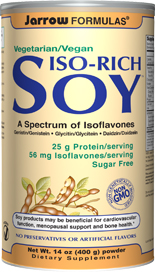 ---
Ingredients & Description
Jarrow FORMULAS Iso-Rich Soy contains water-extracted, Non-GMO (Genetically Modified Organisms) soy protein isolate.
Consistent isoflavone level. Each serving guarantees a total of 56 mg of naturally occurring isoflavones, consisting of genistin/genistein, daidzin/daidzein and glycitin/glycitein. The isoflavone level in Iso-Rich Soy reflects the daily dietary intake of isoflavones in Asian countries such as Japan.
Mix into cold or cooked cereals.
Water extraction of soy protein preserves naturally occurring isoflavones, saponins and IP6 (Inositol Hexaphosphate).
IP6 (Inositol Hexaphosphate) supports cellular development and immunity, including enhancing Natural Killer (NK) cell function.* IP6 also supports cardiovascular health bybinding free iron.*
Saponins, another naturally occurring group of phytonutrients in soy, have been shown in scientific studies to enhance the bodys defense mechanisms.*
Soy Protein and Heart Disease: Consumption of 25 grams of soy protein a day, as a part of a diet low in saturated fat and cholesterol, may reduce the risk of heart disease.
Iso-Rich Soy is a complete source of essential amino acids and meets or exceeds the daily Amino Acid Requirement Patterns for adults measured by PDCAAS* (recommended by the Food and Nutrition Board, 1989).
Mix 2 rounded tablespoons (29 g) of powder with 6 to 8 oz. fruit juice, milk, or your favorite beverage, or you may: Blend powder with liquid, ice and fruits for smoothies. Add to soups, sauces, casseroles, meatballs, patties, baked items (bread, muffins, etc.) or frozen desserts. Use Iso-Rich Soy as a dietary supplement to increase your intake of protein, isoflavones and IP6.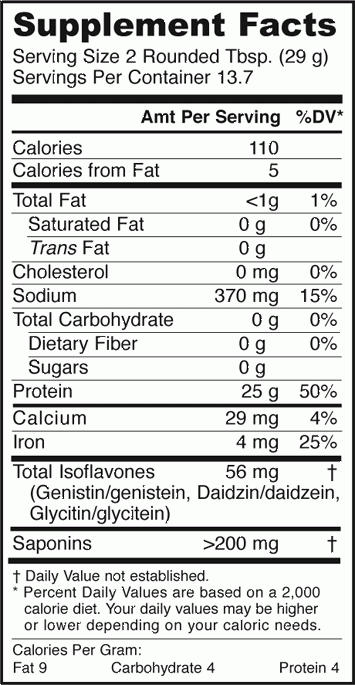 Soy products may be beneficial for cardiovascular function, menopausal support and bone health.*
IP6 Inositol Hexaphosphate has been called a "natural cancer fighter" and scientific studies suggest that it slows or reverses the growth of various forms of cancer, including breast, colon, and prostate cancers.
Jarro-Dophilus Enhanced Probiotic System (EPS) s the best probiotic to promote healthy intestinal microflora and support immune function.
SKU: SOY
UPC: 790011210092
Distributed or manufactured from Jarrow Formulas. See more
Jarrow Formulas
products.
---
Questions and answers:
Asked on: April 24, 2014
Question: Price in India


0

0

A: We ship domestically to all 50 states and internationally worldwide. If you place an order online at Seacoast.com we will expedite your order to India immediately. Should you need further assistance our Customer Service Department can be contacted at 1-800-555-6792 or you can email us at orders@seacoastvitamins.com Vote down - Vote up

Asked on: August 12, 2013
Question: Is this a fermented soy powder or unfermented?