Iso-Rich Soy plus Greens - Jarrow Formulas - Chlorella and Spirulina with Digestive Enzymes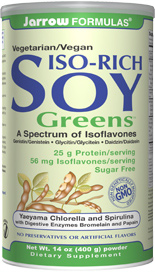 ---
Ingredients & Description
Jarrow FORMULAS® Iso-Rich Soy Greens combines water-extracted, Non-GMO (Genetically Modified Organisms) soy protein isolate, super green foods, and digestive enzymes to create a nutritious and easily digested drink.
Consistent isoflavone level. Each serving guarantees a total of 56 mg of naturally occurring isoflavones, consisting of genistin/genistein, daidzin/daidzein, and glycitin/glycitein. The isoflavone level in Iso-Rich Soy Greens reflects the daily dietary intake of isoflavones in Asian countries such as Japan.
Water extraction of soy protein preserves the naturally occurring isoflavones, saponins and IP6 (Inositol Hexaphosphate).
Saponins, another naturally occurring group of phytonutrients in soy, have been shown in scientific studies to enhance the bodys defense mechanisms.*
Yaeyama Chlorella is grown in the environmentally pristine coral reef region of Japans Ishigaki Island using mountain spring water, tropical sunshine and food-grade nutrients. Yaeyama Chlorella has the highest concentration of Chlorella Growth Factor (CGF is high in RNA/DNA), and along with Spirulina is a rich source of chlorophyll and carotenoids.
Bromelain and Papain enzymes are added to aid digestion of the soy protein.*
Soy Protein and Heart Disease: Consumption of 25 grams of soy protein a day, as a part of a diet low in saturated fat and cholesterol, may reduce the risk of heart disease.
Mix 2 rounded tablespoons (31 g) of powder with 6-8 oz. fruit juice, milk, or your favorite beverage, or you may: Blend powder with liquid, ice and fruits for smoothies. Mix into cold or cooked cereals. Add to soups, sauces, casseroles, meatballs, patties, baked items (bread, muffins, etc.) or frozen desserts.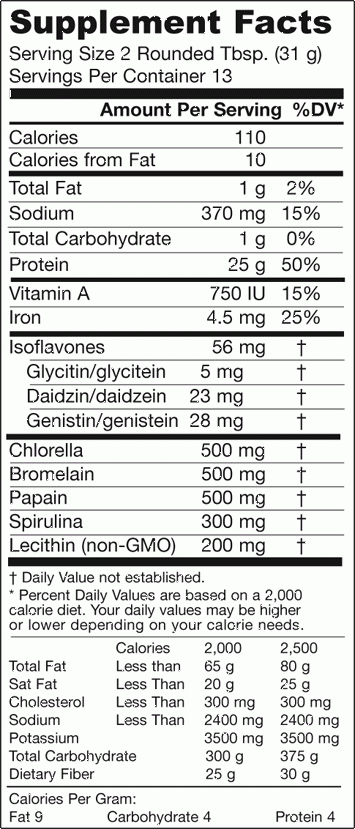 Yaeyama Chlorella and Spirulina with Digestive Enzymes Bromelain and Papain
IP6 Inositol Hexaphosphate has been called a "natural cancer fighter" and scientific studies suggest that it slows or reverses the growth of various forms of cancer, including breast, colon, and prostate cancers.
SKU: ISOGR
UPC: 790011210160
Distributed or manufactured from Jarrow Formulas. See more
Jarrow Formulas
products.