Intestinal Movement Formula -HealthForce Nutritionals- Part Of The Healthforce Healing Cleanse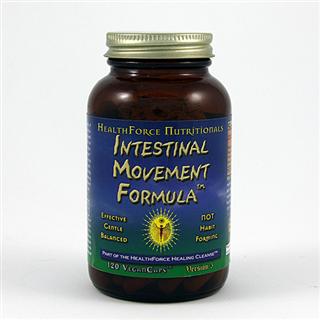 ---
Ingredients & Description
This superior formulation (highly effective, yet gentle) was designed to produce maximum colon cleansing and proper movement with little or no discomfort. The supportive herbal components in this formula also support digestion, the immune system, blood sugar balance and reduction of harmful microbes. *
Suggested Usage: Start with one or two VeganCaps per day and increase by approximately two per day until you reach the desired result (usually 2-3 significant bowel movements per day, which may require up to 15 VeganCaps per day depending on your system). Daily usage can be split up into 2 servings (preferably morning and evening), taken all at once, or as directed by a qualified health care professional. Use with the Suggested Adjuncts below (not required), for even greater results.
*Part Of The Healthforce Healing Cleanse
Supplement Facts:
Serving size: 1 (one) VeganCap
Amount Per Serving
Proprietary Herbal Blend...........550 mg*
Rhubarb Root, Peppermint Leaf, Wildcrafted Nopal Cactus, Ginger Root, Wasabi, Thyme Leaf, Oregano Leaf, Whole Leaf Aloe Ferox (Cape Aloe), Enzymes (Protease, Amylase, Cellulase, Lipase) All herbs are pesticide free and/or wildcrafted when available.
Other Ingredients: None
*Daily Value not established
A sluggish bowel breeds toxicity that can adversely affect the health of the entire body. Regular bowel movements and a clean colon are the foundation for better health.
SUGGESTED ADJUNCTS: A whole food, plant based, high fiber (animal products have no fiber), organic, Vegan diet with emphasis on fresh, raw (uncooked, high water content foods); fresh vegetable juices; HealthForce Intestinal Drawing Formula, HealthForce Internal Parasite Formula , HealthForce Vitamineral Green (a unique and extremely nutrient dense superfood complex for comprehensive nutritional support and cleansing), and Liver Rescue 4.0
Notice: This Product Contains The Laxative Herbs Rhubarb Root And Aloe Ferox (Cape Aloe). Do Not Use If You Have Or Develop Diarrhea, Loose Stools, Or Abdominal Pain. If You Are Pregnant, Nursing, Or Plan To Become Pregnant, Consult Your Physician Before Using This Product.
SKU: IMF50
UPC: 650786000062
Distributed or manufactured from HealthForce Nutritionals. See more
HealthForce Nutritionals
products.