Intestinal Drawing Formula Powder -HealthForce Nutritionals - Version 4.0 Now with Zeolite & Carob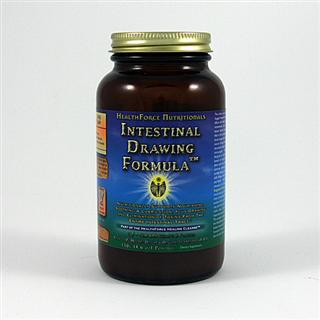 ---
Ingredients & Description
Nutritionally Supports nourishing, soothing lubrication, plus the Drawing and elimination of toxins from the entire intestinal tract. *
The colon is one of our main detoxification routes. A sluggish bowel breeds toxicity that can seriously and adversely affect the health of the entire body. Regular bowel movements and a clean colon are the foundation to better health. Even an apparently non-sluggish bowel that is full of anything other than mostly whole plant foods (vegan) with their fiber intact can be a significant source of poor health (fresh, raw, organic juices or purified structured water are obvious exceptions and highly encouraged).
This superior formulation has been designed to draw in and absorb poisons from the bowel, allowing you to eliminate them and not reabsorb these poisons (a common, everyday occurrence for most) - essential to take during a fast to avoid auto intoxication. It also adds fibrous bulk (without psyllium that can irritate and cause bloating). HealthForce Intestinal Drawing Formula nourishes, soothes, and lubricates the intestines* as it moves through.
Serving Size: 2 level Tablespoons
Proprietary Blend: Wildcrafted Slippery Elm Bark, Fenugreek Seed, Natural Zeolite, Marshmallow Root, Pesticide free Flax Seed Meal, Activated Charcoal, Pesticide free Kelp, Wildcrafted Carob, Pesticide free Whole Stevia Leaf, Volcanic Bentonite Clay*
Suggested Adjuncts: HealthForce Intestinal Movement Formula, HealthForce Internal Parasite Formula, a whole food, plant based, high fiber (animal products contain no fiber), organic, vegan diet with emphasis on fresh raw foods (see the book Uncooking with Jameth & Kim ); large amounts of fresh vegetable juices and structured water; HealthForce Vitamineral Green (a unique whole food, nutrient dense superfood); HealthForce Liver Rescue III+; and HealthForce Digestion Enhancement Enzymes.
SKU: IDF130
UPC: 650786000192
Distributed or manufactured from HealthForce Nutritionals. See more
HealthForce Nutritionals
products.
---
Questions and answers:
Asked on: May 5, 2013
Question: Hello, I wanted to ask if it's smart to buy this product because my father had cancer and it was removed but then year and a half after that the doctors told us that they found metastases on his lungs, liver and adrenal glands. I read about volcano powder helps to reduce or something those metastasis. So if you can help me with any answer i would be glad to read it. Thank you very much!
This questions has not been answered yet. Be the first one!