Integrative Digestive Formula (60 v-caps) - EcoNugenics - Promotes Healthy Digestive Function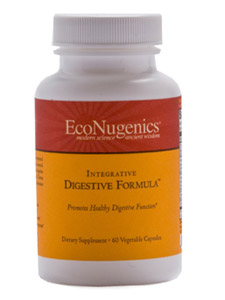 ---
Ingredients & Description
In traditional Chinese and Tibetan herbal medicine digestion is considered the key to good health, and is influenced by many factors, which include diet, stress, and emotional well being. Integrative Digestive Formula was designed to rekindle the digestive "fire" and bring back balance to the digestive process. The formula promotes energy flow downward while supporting the digestive organs.
Integrative Digestive Formula creates a rhythm to the digestive process and regulates wetness in the digestive tract to address a sluggish digestive system.
Promotes healthy digestive function
Promotes downward digestive movement to alleviate occasional heartburn, indigestion, gas and bloating
Helps regulate, smooth and strengthen the small intestine
Boosts immunity and supports the liver in the digestive process
Help regulate, smooth, and strengthen the small intestine, moving digestion downward to help alleviate occasional heart burn, acid indigestion, gas and bloating.
Assist in reversing damage caused by occasional acid indigestion.
Boost immunity and support the liver in the digestive process.
Provide health promoting antioxidants.
Integrative Digestive Formula uses the unique design of four proprietary blends which integrate traditional Tibetan and Chinese herbs with medicinal mushrooms, digestive enzymes, and minerals. The medicinal mushrooms: Hericium, miatake, and poria support the liver, maintain healthy blood lipids, and enhance immune function. The digestive enzymes: Amylase, alphagalactosidase, phytase, protease, invertase, and lipase assist in food breakdown and the absorption of nutrients. Zinc supports against occasional diarrhea, gastric ulcers, and improves immune function, and chromium can decrease carbohydrate cravings.
Suggested Use:
As a dietary supplement, take 1capsules once or twice daily before a meal, or as directed by your healthcare professional.
Supplement Facts
Serving Size 1 Capsules
Servings Per Container 60
Amount Per Serving %Daily Value†
Zinc (as OptiZinc) 7.5 mg 50%
Chromium (as polynicotinate) 100 mcg 80%
Integrative Asian Digestive Blend 350 mg *
Pomegranate seed (Punica granatum), lesser galangal root extract (Alpinia officinarum), pepper fruit (Piper nigrum), Cassia bark (Cinnamomum cassia), Chinese cardamom fruit extract (Amomum kravanh)
Traditional Chinese Herbal Digestive Blend 110 mg *
Tangerine fruit (Citrus reticulata), de-glycyrrhizinated licorice root (Glycyrrhiza glabra), ginger root (Zingiber officinale), henon bamboo herb (Phyllostachys nigra), sacred lotus seed extract (Nelumbo nucifera)
USDA Certified Organic Mushroom Digestive Blend 60 mg *
Hericium (Hericium erinaceus), maitake (Grifola frondosa), poria (Wolfporia cocos)
Digestive Enzyme Support Blend 52 mg *
Amylase, alpha-galactosidase, protease, phytase, invertase, lipase
OptiZinc® is a registered trademark of Interhealth.
† Percent Daily Values based on a 2,000 calorie diet.
*Daily Value not established.
Other Ingredients:
Vegetable capsule (Natural vegetable cellulose, water), microcrystalline cellulose, magnesium stearate.
Natures Way Promeva, a unique natural supplement to help support healthy breast tissue. Promeva is Clinical Strength Breast Health Protection.
Mens Prostate Health Supplement. ProstaCaid from Econugenics is now available. New Clinically Supported Breakthrough for Prostate Health
SKU: 6190
UPC: 892985000614
Distributed or manufactured from Econugenics. See more
Econugenics
products.
---
Questions and answers:
Asked on: March 10, 2013
Question: I have a few beers each afternoon after work. Will Integrative Digestive Formula be OK to take if I am still drinking beer ?


0

0

A:

This product has no known adverse effects or contraindications. Due to the herbal content this product is not recommended for those who are nursing, pregnant or considering pregnancy.

Integrative Digestive Formula is prepared with the highest quality active ingredients under conditions that meet or exceed Good Manufacturing Practices (GMP) as defined by the Food and Drug Administration (FDA). Vote down - Vote up