ImmunoGlycans Advanced (120 capsules) - American Biologics - Enhance Immune System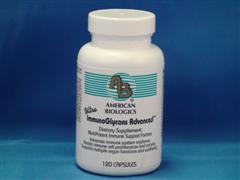 ---
Ingredients & Description
ImmunoGlycans Advanced is based on a quarter century of clinical research that established the benefits of naturally occurring branched complex polysaccharides especially beta-glucans and proteoglycans, here collectively abbreviated to glycans for immune functioning. This modern body of science grew directly out of centuries and even millennia of human experience with medical uses of plants and fungi. The many potent constituents of this formulation were carefully identified, validated, and balanced for their capacities to enhance immune system functions, boost immune cell proliferation and activity, and support multiple organ functions and systemic wellbeing.
Recommended Use: Two (2) capsules two times per day with meals. Intakes up to twelve (12) capsules per day may be indicated, for additional benefit or as directed by a physician.
Supplement Facts
ImmunoGlycans Advanced
Four (4) capsules contain:
APS
%DV
Coriolus versicolor mycelial extract
1,200 mg
N/A
Grifola frondosa mycelial extract
600 mg
N/A
Cordyceps sinensis mycelial extract
300 mg
N/A
Lentinula edodes mycelial extract
300 mg
N/A
Ganoderma lucidum mycelial extract
300 mg
N/A
Tremella fuciformis mycelial extract
100 mg
N/A
Schizophyllum commune Mycelial extract
100 mg
N/A
Agaricus blazei mycelial extract
100 mg
N/A
Other ingredients:Magnesium stearate, silicon dioxide, microcrystalline cellulose.
Free of: yeast, wheat, corn, soy, egg, milk, gluten, rice, sugar, starch, salt, preservatives, artificial colors, flavors, hormones or antibiotics.
SKU: 52120
UPC: 690290521202
Distributed or manufactured from American Biologics. See more
American Biologics
products.