Immune Support Formula by Dr. Weil ( 120 capsules) Comprehensive Supplement Recommendation from Dr. Weil's Vitamin Advisor.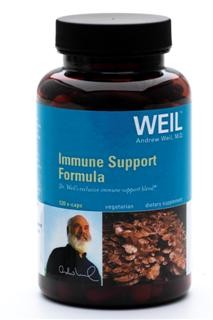 ---
Ingredients & Description
The Weil Immune Support Formula is an exclusive combination featuring Astragalus, a tonifying herbal remedy prized in traditional Chinese medicine. This evidence-based formula also contains a potent blend of immune supportive polypore mushrooms including Maitake and Reishi. Take on a regular basis, the unique combination of ingredients found in the Weil Immune Support Formula may support a healthy immune system.
Suggested Use:
Take 1 vegetarian capsule, three times daily or as needed.
Supplement Facts:
Astragalus Root Extract (16% polysaccharides, 0.2% flavones) 500 Milligrams * Proprietary Mushroom Blend Containing: 276 Milligrams * Reishi Mycelium * Maitake Mycelium * Yun Zhi Mycelium * Agarikon Mycelium * Zhu Ling Mycelium * Birch Polypore Mycelium * Other Ingredients: Rice flour, plant derived cellulose, magnesium stearate.
Warning:
If you are pregnant or lactating, consult a health care professional before using this product.