Dr. Christopher's Immucalm Formula for a natural and safe way to stimluate the i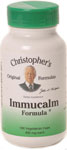 ---
Ingredients & Description
Dr. Christopher's Immucalm (100 caps) is a product designed to help the immune system during the allergy season. Immucalm is a special formulation of herbs that are effective in stimulating the immune system. This in turn allows the immune system to build up a resistance over time to various allergens or pollens in the air. The two major ingredients are Marshmallow Root and Astragalus Root, both of which are known to natural health experts as being effective in this purpose. Additionally this product helps provide relief with symptoms associated with an already occurring allergy attack.
Immucalm works two ways. First it works to help resist allergens in the future and second it works to provide relief of symptoms that are already occurring. This product should be taken 2 capsules at a time and up to 3 times per day, or as directed.
All Natural
Effective Immune Support For Allergies
---
*Not intended to diagnose or treat diseases or ailments, and is not reviewed by the FDA.
Uses & Indications.
Enhancing Immune Function
Promoting Breathing
Reducing Swelling
Improving Memory
Relieving Coughing
Relieving Sneezing
Ailments & Concerns.
Immune System Hyperactivity
Asthma
Dementia
Allergies
Rheumatoid Arthritis
Hay Fever
Alzheimer's Disease
Cold & Flu