Bodybuilding Supplements - Memory Pills - Weight Loss Supplements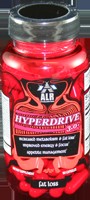 ---
Ingredients & Description
Venom Hyperdrive 3.0 from ALR Industries is a supplement designed for adults age 21 or over only. This is a product created for those adults who need the best environment for extreme energy and fat modulation for dramatic results through responsible application of a highly advanced formula.
Increased Metabolism and Fat Loss
Improved Energy and Focus
Appetite Management
Hyperdrive 3.0+ is a synergistic blend of potent herbal derivatives specifically selected to yield the most potent daytime fat loss formula legally available.
Hyperdrive 3.0+ is specifically formulated for healthy adults seeking the most aggressive formulation for fat loss. This product is not intended for minors or recreational dieters.
Instead, Hyperdrive 3.0+ is designed for responsible adults seeking dramatic results from the most efficacious combination of ingredients. Combined with proper diet and exercise, this advanced formula is sure not to disappoint!
Supplement Facts
Hyper Drive
Serving Size:1 capsule
APS
%DV
Unique Proprietary Matrix ALRCocamine 3.0+ (Cocoa Concentrates, Methylsynephrine), Guarana Extract (99% Xanthines), Vitaberine (Thiamine-O-Isobutyryl Disulphide), Maximowiczia Chinensis Concentrate, Phaseolus Vulgaris Concentrate, Hoodia Gordonii Concentrate, Schotia Simplicifolia Concentrate, Commiphora Mukul (2.5% Guggulsterones), R-Alpha Lipoic Acid, Rhodiola Rosea Concentrate, Tyrosine Ethyl Ester, Proprionyl-Carnitine Ethyl Ester, Sophora Radix Concentrate, Rauwolfia Serpentina Concentrate.
605 mg
Suggested Use:
As a dietary supplement, test your tolerance by taking 1 capsule in the morning with food for the first 7 to 10 days. After tolerance test, you may consider taking 1 to 2 capsules 1 time daily with 8 ounces of water with food. May cause sleeplessness. Do not exceed 2 capsules daily.
WARNING: NOT FOR USE BY INDIVIDUALS UNDER THE AGE OF 21 YEARS. DO NOT USE IF PREGNANT OR NURSING. KEEP OUT OF REACH OF CHILDREN. Do NOT consume this product if you have a medical condition and/or taking any prescription medication. Do not exceed recommended serving. Discontinue use and call a physician or licensed qualified health care professional immediately if you experience rapid heartbeat, dizziness, severe headache, or other similar symptoms.
SKU: ALRIVENO20900000CP
UPC: 94922534743
Distributed or manufactured from ALRI. See more
ALRI
products.