Hydroxycut Hardcore X (210 caps) - MuscleTech - Experience The Power Of American's #1 Selling Hardcore Thermogenic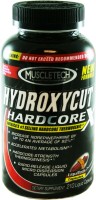 ---
Ingredients & Description
When developing the Hydroxycut Hardcore X formula, Team MuscleTech researchers included a powerful primary ingredient that was scientifically researched and suggested to accelerate metabolism and increase energy. Additionally, after analyzing countless research journals, they also discovered a study out of a prestigious U.S. University on this key thermogenic compound. In this study, subjects using the key thermogenic compound in Hydroxycut Hardcore X rapidly increased plasma norepinephrine concentration, your body's primary fat-breakdown hormone, by up to an average of 92%! Formulated with a powerful key ingredient that is backed by hard scientific evidence, you can be sure that Hydroxycut Hardcore X has been developed to help you increase thermogenesis and accelerate your metabolism.
Suggested Use:
Take one serving (3 capsules) with an 8 oz. glass of water twice daily. On days of your workout, take one of these servings before the workout. Consume ten glasses of water per day. Read the entire label before use and follow directions. Do not exceed 3 c
Supplement Facts:
Serving Size 3 capsules Servings Per Container 70 Hydroxycut® Hardcore X 1134mg ÃÂ AdenocleneÃÂ Caffeine Anhydrous [Supplying 300 Mg Of Caffeine (1,3,7-Trimethylxanthine)] Aminoacetic Acid L-Methioninen ((2S)-2-Amino-4-Methylsulfanylbutanoic Acid Choline Bitartrate NorepidreneÃÂ MCTs (Medium Chain Triglycerides Oleic Acid L-Proline ÃÂ((2S)-Pyrrolidine-2-Carboxylic Acid Betaine HCl (2-(Trimethylazaniumyl)acetate) LipidrolÃÂ L-Tyrosine ((2S)-2-Amino-3-(4-Hydroxyphenyl)propanoic Acid L-Leucine ((2S)-2-Amino-4-Methylpentanoic Acid Trans-Ferulic Acid ((E)-3-(4-Hydroxy-3-Methoxyphenyl)prop-2-Enoic Acid L-Carnosine (2-(3 Aminopropanoylamino)-3-(1H-Imidazol-5-Yl)propanoic Acid) L-Arginine Pyroglutamate Myristic Acid (Tetradecanoic Acid) CapsicoreÃÂ Capsicum Annuum (Cayenne)(Fruit) * Percent Daily Values are based on a 2,000 calorie diet ÃÂ Daily Value not established
Other Ingredients:
Sesame Oil, Medium Chain Triglycerides, Gelatin, FD&C Red No. 40, Polysorbate 80, PAPRIKA EXTRACT, Silica, Soy Lecithin, Caramel Color, FD&C Red No. 3, Ink (Povidone, Propylene Glycol, Titanium Dioxide, Isopropyl Alcohol, Sodium Hydroxide, FD&C Yellow No.
SKU: MSCTHYDX210AHARDCP
UPC: 631656602036
Distributed or manufactured from MuscleTech. See more
MuscleTech
products.