HydraSport Ultra Hydration Complex - Powers and Hydrates Your Body!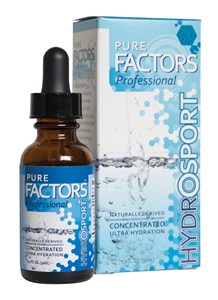 ---
Ingredients & Description
Hydrosport Professional from Pure Solutions offers a powerful complex of ingredients that rehydrates and repowers your body!
HYDROSPORT is a revolutionary alkalizing, cleansing and mineralizing water additive that provides the body with micro-ionic minerals, natural electrolytes, amino acids, B Vitamins and an array of enzymes and polysaccharides.
Getting and staying hydrated is the most import thing you need to do throughout the day. Your body requires half of its body weight in ounces of water every day to stay properly hydrated and continue its many normal functions. All reactions in our bodies require oxygen, and without adequate hydrogen our bodies become dehydrated.
The majority of your body tissues including your brain are mainly composed of water. Water effectively draws its many nutrients into cells so they may continue to function properly. The problem is, most water today has been stripped of its minerals and other nutrients by various purification processes. Lacking just one of the 70 trace minerals in water can affect your mental and physical health. Even if your body is just 1% dehydrated it can affect your performance and output by as much as 15%, as well as limiting your flexibility and range of motion.
Our bodies pH or acid/base balance plays a major role in performance, recovery and endurance. The pH scale ranges from values of 0 to 14. Zero is the most acidic, 14 is the most basic and 7 is neutral. The perfect pH for blood is 7.35-7.45. The more acidic your body becomes, the less oxygen there is to feed your muscles, which dramatically affects your endurance and hemoglobin content. Chronic acidic bodily fluids can also lead to the breakdown of muscles and tissues like bone.
Benefits:
Increasing ATP and Boosting Bodily Functions and Reactions
Increasing Absorption and Effects of All Supplements
Charges, Activates and Detoxifies Cells while Improving Nutrient Function
Increases Production and Bio-availability of Sex Hormones
Increases Production of Hemoglobin, DNA and RNA
Regulates Body pH levels
Directions:
As a rehydration formula add 30 drops (3/4 of a dropper) to 1 gallon of water or 2 drops per 8 ounces. Use before, during and after competition or training for best results.
For extreme rehydration, athletes may also hold 15-30 drops under tongue for 90 seconds, then swallow.
Supplement Facts
HydraSport Hydration Nutrient Formula
Serving Size: 30 drops
APS
%DV
Proprietary Hydration Blend: Ionic Trace Minerals Electrolytes Plant Based Enzymes Plant Based Amino Acids 40% Lycium Polysaccarides 100x Aloe Berbadensis Trace Amounts of: Bio-available Fulvic Acid Bio-available Humic Acids Bio-available Electrolytes 74 Bio-available Ionic Macro and Ionic Micro 21 Bio-available Plant Based Amino Acids 16 Bio-available Plant Based Enzymes Bio-available Vitamins: A,C and E,B1,B2,B3,B5,B6,B12,B16,B17,B22,Bp (choline) Unique Polysaccharides: LBP1, LBP2, LBP3, LBP4 and Beta-Glucomannans
360 mg
Other Ingredients: Purified Water, 25% Organic Grape Alcohol.
Contains No: Wheat, Gluten, Soy, Corn, Yeast, Fish, Egg, Dairy, Lactose, Artificial Flavors, Flavors or Preservatives.
SKU: PS-HC30
UPC: 818016010001
Distributed or manufactured from Pure Solutions. See more
Pure Solutions
products.
---
*Not intended to diagnose or treat diseases or ailments, and is not reviewed by the FDA.
Uses & Indications.
Keeping Hydrated During Extreme Physical Activity
Replacing Electrolytes
Supporting Endurance And Recovery
Ailments & Concerns.
Muscle Cramps
Fatigue
Dehydration
Sore Muscles