Heartbeat Elite - Carlson Labs - Scientifically Complete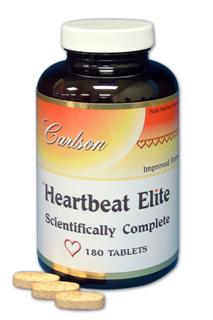 ---
Ingredients & Description
Heartbeat Elite (180 tablets) Cardiovascular health is an essential component of longevity and vitality, and certain nutrients are essential to good cardiovascular health. Heartbeat Elite was carefully formulated to provide the nutrients you need for optimal heart health in one convenient supplement package.
Heartbeat Elite provides higher doses of B-Vitamins, CoQ10 and L-Carnitine and Minerals. This formula also contains trace minerals, Grape seed extract and Alpha Lipoic Acid. Heartbeat Elite promotes normal electrical activity of the heart while maintaining the integrity of capillary walls, and helps convert fats into energy.
Suggested Use: Take 3 tablets once or twice daily at mealtime.
Important nutrients that help maintain and promote a healthy cardiovascular system are contained in each tablet of Heartbeat Elite:
Copper is a primary component of super oxide dismutase, a potent antioxidant enzyme.
Manganese is involved in energy production and in the metabolism of fats and proteins.
Chromium is directly involved in the conversion of glucose into energy.
Molybdenum is involved in copper absorption and sulfur metabolism.
Potassium is a major critical electrolyte in cellular fluids.
Boron is linked directly to the utilization of magnesium and calcium.
OTHER NUTRIENTS
L-Carnitine is an amino acid, which plays a role in cellular respiration.
L-Arginine is an amino acid that supports the formation of nitric oxide. Nitric oxide plays a significant role in blood vessel dilation and is highly important in maintaining optimal blood flow.
Grape Seed Extract is a rich source of flavonoids.
Co-enzyme Q10 is a compound critical to the energy cycle of all cells.
Alpha Lipoic is a powerful antioxidant, working in concert with vitamins C and E.
Lycopene is a fat-soluble antioxidant carotenoid found in tomatoes and watermelons. Regular consumption of fatsoluble antioxidants has been shown to support optimal cardiovascular health.
Lutein is a fat-soluble antioxidant that supports cardiovascular health. Studies indicate that diets high in lutein are associated with a healthy macula and a healthy cardiovascular system.
VITAMINS
Vitamin A in the form of beta-carotene is an active free radical fighter.
Vitamin C is a water-soluble, antioxidant important in the body's defense.
Vitamin D aids in the metabolism of calcium and phosphorus.
Vitamin E prolongs the life of cells as a powerful antioxidant.
Thiamin and Riboflavin (B-1 & B-2) are involved in cellular energy production.
Niacin (B-3) is involved in cellular metabolism.
Vitamin B-6 (Pyridoxine) encourages normal homocysteine levels.
Folate helps maintain healthy blood and normal homocysteine levels.
Vitamin B-12 (Cobalamin) is utilized in the degradation of homocysteine.
Biotin is involved in the metabolism of carbohydrates, fats, and proteins.
Pantothenic Acid is a constituent of co-enzyme A, which is utilized in cellular respiration.
MINERALS
Calcium works together with magnesium and is essential for muscle contractions.
Iodine is essential for growth and the production of thyroid hormones.
Magnesium balances calcium and is important in the electro-chemical balance of the heart.
Zinc is essential in supporting theimmune system.
Selenium is a vital component of glutathione peroxidase, a powerful antioxidant made within our bodies.
SKU: 4152
UPC: 088395041525
Distributed or manufactured from Carlson Labs. See more
Carlson Labs
products.
---
*Not intended to diagnose or treat diseases or ailments, and is not reviewed by the FDA.
Uses & Indications.
Providing Higher Doses Of Essential Nutrients In Support Cardiovascular Health
Ailments & Concerns.
---
Questions and answers:
Asked on: March 6, 2013
Question: I would like to order this product please contact me Thanks!