---
Ingredients & Description
Healing Honey with its fully certified Manuka 15+ activity is truly one of nature's nectars with special immune supporting properties that it alone possesses. No other honey has these special properties. In fact, less than 1% of all manuka honey contains this extremely rare, 15+ activity that is scientifically proven to have immune supporting and protective properties. How wonderful to have a treat like Healing Honey that the whole family can both enjoy and benefit from at the same time!
Healing Honey is completely unique because:
It's hand-harvested in New Zealand. Our honeybees live in pristine nature preserves, where we meticulously process our Healing Honey exclusively by hand to ensure all of its natural goodness is protected.
It's 100% organic and raw. Healing Honey was the first ever certified organic Active 15+ Manuka Honey in the world, and it is raw (never heated), thereby preserving its unique health supporting natural enzymes.
It's potent and pure. Healing Honey is scientifically tested and verified to have all of its beneficial active 15+ Manuka factor. We also test each batch to ensure it is absolutely pure by certifying that it'ÃÂs free of more than 160 chemical residues.
It's indescribably delicious. Healing Honey's delightful flavor and natural sweetness enhance any food, beverage or treat.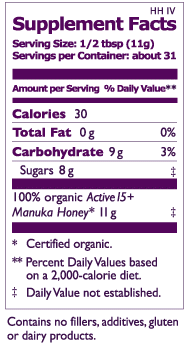 Healing Honey:
Kills staph, strep, and even antibiotic-resistant MRSA
Is the only honey shown to kill helicobacter pylori
Relieves discomfort from stomach ulcers and upset stomach
Makes an excellent dressing for chronic wounds and burns
Is the only certified organic active 15+ manuka honey
It is rich and creamy with an earthy flavor in short, a regenerative, healthful delight.
For only six weeks each year, the honeybees on New Zealand's Coromandel Coast collect the nectar from the fragrant flowers of the manuka tree, commonly known in the United States as the tea tree. From this nectar, they produce a golden treasure with health benefits found in no other honey on earth.
Healing Honey contains the unique manuka factor,ÃÂ a highly beneficial antibacterial substance with healing characteristics above and beyond the hydrogen peroxide enzymes and other valuable properties found in all raw honey. This honey destroys a wide range of bacteria and fungi, including staph, strep, and even antibiotic-resistant MRSA (golden staph). Moreover, it is the only honey shown to kill helicobacter pylori, the bacteria associated with stomach ulcers.
Taken internally for medicinal purposes, this special honey relieves discomfort from stomach ulcers and upset stomach (take 1-2 teaspoonfuls 15-20 minutes before meals). Some people even find it effective against the heartburn caused by acid reflux. Used externally, it is a safe antiseptic for the skin and an excellent dressing for chronic wounds, burns, ulcers, sores, and rashes.
Cold and flu season is the ideal time to enjoy Healing Honey®. Luscious Lemon is one of our favorite warm, soothing beverages.
Delicous Recipes
Feeling a Bit Under the Weather?
Healing Honey is a soothing ally against sore throats and coughs. Here's a simple and effective recipe for calming your throat and restoring your energy. Great anytime and suitable for kids and adults alike!
1 quart filtered water, boiled
1 tablespoon cinnamon powder
Combine water and cinnamon powder. Stir and let cool 5 to 10 minutes.
Add the following, stir, sip and be well!
1 to 2 tablespoons lemon juice (fresh squeezed or concentrate)
1 to 2 tablespoons Healing Honey
- For an extra boost, add grated ginger. Makes 4 cups. Enjoy as often as you wish.
Luscious Lemon
In a saucepan, combine and simmer for 20 minutes:
3 cups water
½ tablespoon freshly grated ginger
½ teaspoon dried licorice root
After the mixture simmers, add the following and serve:
1 tablespoon Healing Honey
1 tablespoon freshly squeezed lemon juice
For overall nourishment, enjoy a cup of Luscious Lemon while you treat your complexion to an exfoliating, antioxidant mask. Honey - Radiance C Facial Mask leaves your skin delightfully smooth and supple.
Honey — Radiance C Facial Mask
1 teaspoon freshly squeezed lemon juice
1 teaspoon Healing Honey
1 teaspoon plain yogurt
Contents of 1 capsule Pure Radiance C
½ teaspoon oat flour
Combine all ingredients and let stand for 15 minutes. Gently apply to face. After 30 minutes, rinse with lukewarm water and moisturize as usual. Store unused portion in the refrigerator. Makes three to five applications.
SKU: 1HH15
UPC: 852971004149
Distributed or manufactured from The Synergy Company. See more
The Synergy Company
products.
---
*Not intended to diagnose or treat diseases or ailments, and is not reviewed by the FDA.
Uses & Indications.
Soothing Indigestion And Other Digestive Discomforts
Promoting Healthy Probiotics In Your Gastrointestinal Tract
Enhancing Your Body's Immune Response
Containing Free Radical Busting An
Delicious And Healthy Substitute For Sugary Sweets
Ailments & Concerns.
---
Questions and answers:
Asked on: April 21, 2013
Question: As it contains 8g sugar Wont this increase prostate cancer as one of cancer likes is sugar I stopped taking Manuka for this reason Can i safely use it


Asked on: February 22, 2013
Question: What age can children take manuka


0

0

A: Pediatricians recommend that parents not give honey to children under 12 months because their digestive tract and organ systems are not fully developed. This recommendation is also true for many other foods. However, children older than one year can benefit greatly from consuming Healing Honey. In fact, due to Healing Honey's natural antimicrobial effects, it has been shown to be more effective in relieving kids' coughs than over-the-counter medicines. In addition, Healing Honey is an amazing restorative agent for the skin and can be applied to scrapes, cuts, burns and insect bites with very positive results. Vote down - Vote up

Asked on: February 27, 2013
Question: I heared that it is good for herpes treatment it is true


0

0

A: Manuka Honey has many purposes and benefits and is known as a healing honey and makes a great dressing for a wound. Though the manufacturer doesn't state specifically all the uses of this product it may possibly help with your herpes however I cannot confirm that as I do not have that specific information. Vote down - Vote up