Green Phytofoods (270 tablets 1000 mg) - NOW Foods - NatureS Most Vitamin-Blessed Sources Of Nourishment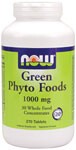 ---
Ingredients & Description
Green plants (phytonutrient-rich products derived from green plants, algae and cereal grasses) provide us with one of natures most vitamin-blessed sources of full-spectrum nourishment. With their exceedingly high concentrations of chlorophyll, vitamins, minerals amino acids, enzymes and plant sterols, these seasonally harvested super-foods are abundant in a wealth of immune boosting, energy producing nutrients. Available in both powder and tablet form, NOW Green Phytofoods can serve as a welcome addition to any healthy lifestyle.
Supplement Facts
Green Phyto Foods 1000 mg - 90 Tabs
APS
%DV
Calories from Fat
15
Dietary Fiber
1.5 g
6%*
Sugars
1.5 g
Alfalfa Juice Concentrate
700 mg
Alpha-Lipoic Acid
10 mg
Apple Fiber
350 mg
Apple Pectin
300 mg
Barley Grass Powder, Org.
500 mg
Barley Malt Powder
400 mg
Bilberry Extract (25% Anthocyanidins)
20 mg
Broccoli Powder
350 mg
Brown Rice Bran
350 mg
Calcium
125 mg
0.1
Calories
40
Carrot Powder
500 mg
Chlorella Powder
300 mg
Cholesterol
0 g
0
Coenzyme Q10 (CoQ10)
10 mg
Eleuthero (Eleutherococcus senticosus) (Root)
100 mg
Fructooligosaccharides (NutraFloraTM FOS)
100 mg
Ginkgo Biloba Extract (24% ginkgo flavonglycosides)
20 mg
Grapeseed Extract (Vitis unifera) (95% polyphenols)
20 mg
Green Tea Extract (Camellia sinensis) (40% catechins)
100 mg
Iodine (as Kelp)
90 mcg
0.6
Iron
2.8 mg
0.15
Kelp Powder
50 mg
Lecithin, fine powder
2.0 g
Magnesium
23 mg
0.06
Milk Thistle Extract (80% Silymarin)
80 mg
Oat Bran
300 mg
Panax Ginseng Root Powder (CA Meyer) (min. 5% Ginsenosides)
250 mg
Peppermint Powder
150 mg
Plant Based Enzymes
350 mg
Protein
2.0 g
4%*
Red Beet Powder
300 mg
Royal Jelly Powder (min. 5% 10-H D A)
100 mg
Saturated Fat
0.5 g
2%*
Servings Per Container:
10
Sodium
25 mg
0.02
Spirulina (Hawaiian), Org.
1.0 g
Stevia Extract (Leaves)
10 mg
Total Carbohydrate
4.0 g
2%*
Total Fat
2 g
4%*
Trace Mineral Concentrate
100 mg
Vitamin A (as Beta-Carotene)
2,450 IU
0.5
Vitamin B-12
3.7 mcg
0.6
Vitamin K
35mcg
0.45
Wheat Grass Powder, Org.
500 mg
Serving Size: 9 tablets Suggested Use: As a dietary supplement, take 9 tablets daily divided throughout the day. Other Ingredients: Calcium phosphate, cellulose, magnesium stearate, stearic acid (vegetable source), silica and vegetable coating. Warnings: Accidental overdose of iron-containing products is a leading cause of fatal poisoning in children under 6. Keep this product out of reach of children. In case of accidental overdose, call a physician or poison control center immediately. Caution: Please discard the inedible freshness packet enclosed. Disclaimers: *This statement has not been evaluated by the FDA. This product is not intended to diagnose, treat, cure or prevent any disease. Plant based enzymes contains - Protease (12,500 HUT), Amylase (2,500 DU), Lipease (200 LU), Cellulase (500 CMC), Lactase (200 LAC), Papain (6,000 PU), Bromelain (5,000 FCC). Nutra Flora is a trademark of Golden Technologies Co.
Green Phyto Foods
SKU: 2708
UPC: 733739027085
Distributed or manufactured from NOW Foods. See more
NOW Foods
products.