Green Phytofoods Powder (10 oz) - NOW Foods - Full-Spectrum Nourishment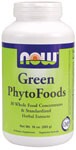 ---
Ingredients & Description
Green plants (phytonutrient-rich products derived from green plants, algae and cereal grasses) provide us with one of natures most vitamin-blessed sources of full-spectrum nourishment. With their exceedingly high concentrations of chlorophyll, vitamins, minerals amino acids, enzymes and plant sterols, these seasonally harvested super-foods are abundant in a wealth of immune boosting, energy producing nutrients. Available in both powder and tablet form, NOW Green Phytofoods can serve as a welcome addition to any healthy lifestyle.
Supplement Facts
Green Phyto Foods - 10 oz.

APS
%DV
Calories from Fat
15
Dietary Fiber
1.5 g
6%*
Saturated Fat
0.5 g
2%*
Sugars
1.5 g
Alfalfa Juice Concentrate
700 mg
Alpha Lipoic Acid
10 mg
Apple Fiber
350 mg
Apple Pectin
300 mg
Barley Grass Powder, Org.
500 mg
Barley Malt Powder
400 mg
Bilberry Extract (25% Anthocyanidins)
20 mg
Broccoli Powder
350 mg
Brown Rice Bran
350 mg
Calcium
125 mg
0.1
Calories
40
Carrot Powder
500 mg
Chlorella Powder
300 mg
Cholesterol
0 mg
0
Coenzyme Q10 (CoQ10)
10 mg
Eleuthero (Eleutherococcus senticosus) (Root)
100 mg
Fructooligosaccharides (NutraFloraTM FOS)
100 mg
Ginkgo Biloba Extract (24% Ginkgoflavonglycosides) (Leaves)
20 mg
Grapeseed Extract (95% Polyphenols)
20 mg
Green Tea Extract (40% Catechins)
100 mg
Iodine (from Kelp)
90 mcg
0.6
Iron
2.8 mg
0.15
Kelp Powder
50 mg
Lecithin (Fine Powder)
2.0 g
Magnesium
23 mg
0.06
Milk Thistle Extract (80% Silymarin)
80 mg
Oat Bran
300 mg
Panax Ginseng Root Powder (C.A. Mayer) (min. 5% Ginsenosides)
250 mg
Peppermint Powder
150 mg
Plant Based Enzymes
350 mg
Protein
2 g
4%*
Red Beet Powder
300 mg
Royal Jelly Powder (min. 5% 10-HDA)
100 mg
Serving Size:
1 Heaping Tablespoon (9 g)
Sodium
25 mg
0.02
Spirulina (Hawaiian, Org.)
1.0 g
Stevia Extract (Leaves)
10 mg
Total Carbohydrate
4 g
2%*
Total Fat
2 g
4%*
Trace Mineral Concentrate
100 mg
Vitamin A (as Beta-Carotene)
2450 IU
0.5
Vitamin B-12
3.7 mcg
0.6
Vitamin K
35 mcg
0.45
Wheat Grass Powder, Org.
500 mg
Zinc
160 mcg
2%*
Serving Size: 1 Heaping Tablespoon (9 g) Suggested Use: As a dietary supplement, mix or blend 1 heaping tablespoon into 8 ounces of juice or water. Take 1 to 3 times daily. Other Ingredients: Plant based enzyme contains - Protease (12,500 HUT), Amylase (2,500 DU), Lipese (200 LU), Cellulose(500 CMC), Lactase (200 LAC), Papain (6,000 PU), Bromelain (5,000 FCC). Warnings: Caution: Please discard the inedible freshness packet enclosed. Disclaimers: *This statement has not been evaluated by the FDA. This product is not intended to diagnose, treat, cure or prevent any disease. Nutra Flora is a trademark of Golden Technologies
Green Phyto Foods
SKU: 2705
UPC: 733739027054
Distributed or manufactured from NOW Foods. See more
NOW Foods
products.