Glypro XTS Complete Stack (Lemon Ice 414 grams) - Champion Nutrition -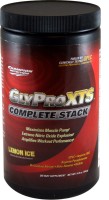 ---
Ingredients & Description
GlyProXTS contains the patented ingredient GlycoCarn GPLC that drives oxygen into your muscles and forces muscles to expand in a way that no other Nitric Oxide (N.O.) product can even claim. After a few months of using an Arginine N.O. product, your muscles have adjusted to the oxygen deprivation and quit giving you that Pump as they once did.
A great Pump requires Oxygen! The more oxygen your tissues demand, the higher your N.O. level and the more extreme your pump and energy output. Delivering continuous levels of Oxygen is what makes GlyProXTS the most effective product to stack with N.O. supplements in the world. You will work out harder and longer, and lift heavier weights that will result in the best pump of your life!
Mix 1 level scoop (20.7g) with 1214 oz. of cold water and consume 30 minutes before training. Vary the amount of water to achieve your desired flavor and sweetness level.
Supplement Facts
Single Serving %DV
Serving Size 1 scoop
Servings Per Container 20
Calories 30
Sodium 115mg 1%
Total Carbohydrates 4g 1%
Sugars 0g
Calcium 23mg 2%
GlyPro Nitric Oxide Activator Matrix 5820mg *
(L-Arginine, L-Glutamine, Glycine-Propionyl-L-Carnitine HCl (GPLC), L-Leucine, L-Carnitine, Arginine AKG, Calcium AKG, Taurine, Arginine Pyroglutamate, L-Valine, Bromelain, L-Isoleucine, L-Histidine)
Enhanced Power Blend 5000mg *
(Creatine Monohydrate, Beta-Alanine, Sodium Bicarbonate, Magnesium Oxide, Di-Creatine Malate)
Energy Blend 330mg *
(Glucuronolactone, Caffeine)
Enhanced Transport Blend 9mg *
(Potassium phosphate, potassium citrate)
* Daily Value not established
Other Ingredients:
Cellulose, Tricalcium Phosphate, Hydrogenated Vegetable Oil, Silicon Dioxide, Magnesium Silicate, Magnesium Stearate Croscarmellose Sodium, Ethyl Vanillin.
GlyProXTS is a high performance product containing caffeine and other stimulants. It is always suggested that you first assess your tolerance by consuming less than the serving size. Do not consume more than the recommended daily dosage. If you are pregnant, lactating, or sensitive to caffeine, or have a medical condition such as high blood pressure, do not take this product. This product is intended for human use only by healthy, physically active adults. Please consult your physician before using this or any other dietary supplement.
SKU: CHMPGLYO414GLIMEPW
UPC: 27692200419
Distributed or manufactured from Champion Nutrition. See more
Champion Nutrition
products.