Gentian Bitters Angelica Bitters 2oz by Eclectic Institute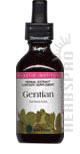 ---
Ingredients & Description
Gentian Bitters Angelica Bitters 2oz combines the powerful properties of gentian bitters with the aromatic properties of angelica root to promote healthy digestion and gastrointestinal relief. Bitters work to stimulate digestion starting with the taste buds. Gentian Bitters Angelica Bitters begin at the tongue and work through the body's system to induce the production of stomach acids and digestive juices, particularly hydrochloric acid. This causes food to be more effectively and quickly broken down and digested.
Gentian Bitters Angelica Bitters is the first step in addressing digestion complications in a healthy, safe, and natural way. It can be especially beneficial for the elderly and/or those suffering from gas and bloating, and sluggish digestion. It can take some time to adjust to the unique, tart flavor of Bitters. The angelica aromatics have been added to improve the taste and to counteract the bitter flavor with a sweet flavor. Simply add Gentian Bitters Angelica Bitters to a liquid such as water or tea and drink before a meal to help the body digest more efficiently. Gentian Bitters Angelica Bitters can help to improve overall health by aiding in digestion and promoting regularity. It is not usually recommended for those suffering from gastritis or ulcers. You should always consult with your physician before taking any new medication or supplements.
Benefits:
Stimulates healthy digestion
Safe and effective
All-natural
Relieves gas and bloating
Ingredients

Dried Fennel (Foeniculum vulgare) seed, 1:4, 21.9%;
Dried certified organic Elecampane (Inula helenium) root, 1:4, 21.9%;
Dried Licorice (Glycyrrhiza glabra) root, 1:4, 21.9%;
Dried wildcrafted Gentian (Gentiana spp.) root, 1:4, 16.4%;
Dried certified organic Angelica (Angelica archangelica) root, 1:4, 16.4%;
UPC: 23363-30032
Distributed or manufactured from Eclectic Institute. See more
Eclectic Institute
products.