FYI - Garden of Life - Chicken Collagen Type II, Proteolytic Enzymes & Turmeric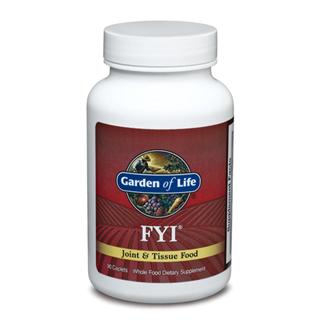 ---
Ingredients & Description
FYI contains chicken collagen type II, systemic enzymes and herbs chosen for their ability to support healthy joints. The ingredients in FYI include naturally occurring compounds that support normal joint function and mobility. Proteolytic enzymes have the ability to support normal metabolic processes in the body that support joint and connective tissue health* Ingredients in FYI support antioxidant function in the body.
FYI is a unique formula that combines a special form of collagen, proteolytic enzymes and turmeric to support normal joint function and mobility.* FYI is further enriched with a unique blend of foods and botanicals to support antioxidant function in the body.* Additionally, the cats claw, ginger, barley juice, and turmeric are fermented using our proprietary Poten-Zyme process which makes the nutrients in these ingredients more available to the body.
Systemic Enzyme Blend a combination of protein-digesting enzymes able to function in a wide range of pH environments.
Protease Blend - a combination of proteolytic enzymes shown to work systemically.
Bromelain - a powerful protein-digesting enzyme from pineapple.
Papain - a mixture of protein-digesting enzymes isolated from papaya.

Additional enzymes in FYI include:

Lipase - a potent fat-digesting enzyme
Amylase - a starch-digesting enzyme
Cellulase - an enzyme that breaks down plant fiber

Other ingredients include:

Syrian oregano - contains antioxidant compounds and essential oils .
Cats Claw - a traditional Peruvian herb which supports the bodys ability to fight free radicals.
Turmeric Root - an antioxidant that has been shown to support normal joint function.
Young leaves of Rhododendron caucasium - traditionally used as a tea, they contain a unique form of highly available polyphenolic antioxidants.

Suggested Use: Adults take 1 caplet 3 times per day preferably on an empty stomach.

SKU: 100008

UPC: 658010111249

Distributed or manufactured from Garden of Life. See more

Garden of Life

products.