Full Spectrum Milk Thistle Seed Extract -Planetary Formulas- Botanical Liver Support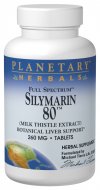 ---
Ingredients & Description
Full Spectrum Milk Thistle Seed Extract Supports and Promotes Natural Liver Function. Milk Thistle Seed Extract is a group of biologically active constituents of milk thistle, an herb with a 2,000-year history of folk usage .The most active group of constituents in milk thistle is the flavonoid complex known as silymarin. Silymarin consists of the flavolignans: silybin, silydianin and silychristin. The silymarin flavonoid concentration is highest in the oily, small, hard seeds of the plant and typically found in concentrations of 4-6%. Planetary Formulas Full Spectrum Silymarin 80 is standardized to 80% silymarin content, the same amount utilized in most modern studies.
Milk Thistle Seed Extract's main action is on the liver, the complex organ involved in more than 500 crucial body functions. Studies have shown that silymarin is absorbed when given orally. In vitro studies with silymarin demonstrated antioxidant activity and the ability to inhibit lipid peroxidation of cellular membranes. In addition, silybin helps control histamine release from white blood cells. Milk Thistle Seed Extract also helps regulate the balance of prostaglandins in the liver. Prostaglandins are hormonelike molecules that regulate a variety of bodily functions.In todays world, the liver is constantly challenged by inhaled chemicals and car exhaust, ingested pesticides, artificially manufactured foods, toxin exposure, alcohol, sedentary lifestyle, prescription and OTC drugs, birth control pills, smoking, junk food and low-fiber, high-calorie foods. The list goes on, and the need for liver support is substantial.The benefits of silymarin have been time-tested by traditional cultures and studied by modern clinical research. To maintain vital liver function, Full Spectrum Milk Thistle Seed Extract is a natural and supportive step for the body to take.
Suggested use: 1 to 2 tablets daily between meals.
Supplement Facts for 260 mg TabletServing Size: 1 Tablet Amount%DV Milk Thistle Seed Extract 80% 210 mg Yielding 186 mg Silymarin Organic Milk Thistle Seed 50 mg
Other Ingredients: sorbitol, stearic acid, modified cellulose gum, colloidal silicon dioxide, magnesium stearate.Contains wheat/gluten.Warning: If you are pregnant, may become pregnant, or breastfeeding, consult your health care professional before using this product.STORE IN A COOL, DRY PLACE.Do not use if either tamper-evident seal is broken or missing. Keep out of the reach of children.Suggested Use: 1 to 2 tablets daily between meals.
Planetary Herbals offers the best of classic herbal traditions, from Ayurvedic and traditional Chinese herbalism to the experience of Western herbal practitioners. Utilizing the knowledge of more than 30 years clinical experience, professional herbalists such as Michael Tierra, Lesley Tierra, Jill Stansbury, and Alan Tillotson, Planetary Herbals is committed to ensuring that our time-tested herbal traditions continue to evolve, grow, and flourish.
SKU: PF0516
UPC: 021078105169
Distributed or manufactured from Planetary Herbals. See more
Planetary Herbals
products.