Full Spectrum Echinacea Extract -Planetary Formulas- Botanical Immune Support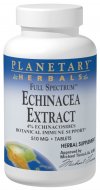 ---
Ingredients & Description
Since it was first introduced into American Medicine by Native Americans in the late 1800's, Echinacea has been one of the most widely used herbs on this continent. With modern research, scientists worldwide are validating the many ways in which Echinacea can strengthen the body's defenses. Echinacea's popularity continues to grow - it is one of the most useful herbs to keep on hand for household use.Planetary Formulas offers three different products containing premium grade, freshly harvested, pure Echinacea. Obtaining freshly harvested material is essential because Echinacea plants rapidly lose their potency when exposed to heat and light. Once powdered, they can lose their strength in as little as six months.Our harvesters send us whole roots of the current seasons Echinacea. The roots are custom powdered, tableted or extracted immediately, and placed in tightly sealed, light-proof or amber bottles. This insures that every bit of Echinacea potency is maintained. When properly prepared, Echinacea can remain vitally potent for years.Full Spectrum Fresh Echinacea ExtractMany of our customers have told us that this is the best Echinacea product they have ever experienced. It is definitely one of the finest Echinacea products ever produced. Modern researchers have discovered different levels of activity in different parts of the Echinacea plant. The roots contain rich amounts of isobutylamides, which give Echinacea its characteristic tingle. The fresh leaves contain the highest amount of polysaccharides, which have powerful strengthening effects on the system, while the seeds provide a wide range of defense-enhancing activity.However, the key to Echinacea's effectiveness is in the quality and potency of the material that is being used. That is why we are so particular about the Echinacea that we use. We receive the ingredients for our Full Spectrum Fresh Echinacea Extract from two places: Echinacea angustifolia and Echinacea pallida are freshly wild-crafted in their natural habitat, while our Echinacea purpurea is certified organically grown in the rich mountain soil of Washington State.The plants are air-shipped to us and immediately extracted, preserving the maximum amount of Echinacea activity. Plus, we use twice as much plant material as is used in most commercial tinctures. Planetary Formulas Full Spectrum Fresh Echinacea Extract is your guarantee of Echinacea you can count on!SummaryBecause of the wide range of benefits that it possesses, Echinacea is one of the most sought-out herbs in the Western world. Give yourself the best of what this herb has to offer with Planetary Formulas premier Echinacea products.
Suggested use: 2 tablets twice daily.
Supplement Facts for 510 mg TabletServing Size: 2 tablets Amount%DVCalcium57 mg6%Echinacea pallida Root750 mgEchinacea angustifolia (standardized Extract 4%) Yielding 10.8 mg Echinacodsides270 mg
Other Ingredients: dibasic calcium phosphate, stearic acid, colloidal silicon dioxide, modified cellulose gum, and magnesium stearate.Warning: If you are pregnant, may become pregnant, or breastfeeding, consult your health care professional before using this product.STORE IN A COOL, DRY PLACE.Do not use if either tamper-evident seal is broken or missing. Keep out of reach of children.Suggested Use: 2 tablets twice daily.
Planetary Herbals offers the best of classic herbal traditions, from Ayurvedic and traditional Chinese herbalism to the experience of Western herbal practitioners. Utilizing the knowledge of more than 30 years clinical experience, professional herbalists such as Michael Tierra, Lesley Tierra, Jill Stansbury, and Alan Tillotson, Planetary Herbals is committed to ensuring that our time-tested herbal traditions continue to evolve, grow, and flourish.
SKU: PF0405
UPC: 021078104056
Distributed or manufactured from Planetary Herbals. See more
Planetary Herbals
products.