Full Spectrum Cordyceps -Planetary Formulas- Chinese Tonic for Endurance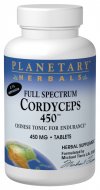 ---
Ingredients & Description
Full Spectrum Cordyceps 450 & Cordyceps Power CS-4Original Chinese Athletic Performance FormulasCordyceps (Cordyceps sinensis) is one of the most valued tonics of ancient Chinese herbalism. According to traditional Chinese texts, cordyceps was used for the purpose of "strengthening the energy of life," and in particular to "build the gate of vitality." Today it is widely gaining recognition as a premier tonifier of world-class athletes. Cordyceps recently received wide attention when Chinese runners, after taking this traditional ingredient, broke the 1,500 and 10,000-meter long distance world records, both within a short period of time.Full-Performance OptionsPrincipally found in the high altitudes of Western China, these original Planetary products, Full Spectrum Cordyceps 450 and Cordyceps Power CS-4, utilize specially prepared cordyceps mycelia. Full Spectrum Cordyceps 450 provides the same amount of cordyceps CS-4 extract (standardized to 0.1% adenosine) used in pharmacological studies. This is combined with cordyceps mycelia, grown on organic brown rice from spores originally gathered in the Himalayas. This combination insures a full spectrum of important cordyceps constituents. Cordyceps Power CS-4 utilizes the same CS-4 cordyceps, and is further combined with other renowned tonifiers of Chinese herbalism, including astragalus root, adenophora root, eucommia bark, Siberian ginseng root, atractylodes root, and ginger root.Combining Tradition and ScienceLike other Planetary Formulas products, Full Spectrum Cordyceps 450 and Cordyceps Power CS-4 unite time-tested herbal traditions with modern science. Each is exclusively developed or selected by licensed acupuncturist and clinical herbalist Michael Tierra, L.Ac., O.M.D. A clinician with more than 30 years of clinical experience, Tierra is an internationally recognized authority on herbs and best-selling author of herbal books, including the Way of Herbs and Planetary Herbology.Ancient Herbal WisdomWith Full Spectrum Cordyceps 450 and Cordyceps Power CS-4 tablets, Planetary Formulas further extends its line of botanical products to bring you modern herbal wisdom with ease of use. Building and maintaining your high-performance goals by supplementing your diet with Full Spectrum Cordyceps 450 or Cordyceps Power CS-4 may help keep your winning standards high no matter what performance challenges you face.
Suggested use: 2 tablets 2-4 times daily between meals.
Supplement Facts for 450 mg TabletServing Size: 2 tablets Amount%DVTotal Carbohydrates1 g<1%Calcium59 mg6%Cordyceps sinensis Mycelia CS-4 Standardized Extract (0.1% adenosine)600 mgCordyceps sinensis Mycelia300 mg
Other Ingredients: sorbitol, dibasic calcium phosphate, stearic acid, colloidal silicon dioxide, modified cellulose gum, magnesium stearate. Warning: If you are pregnant, may become pregnant, or breastfeeding, consult your health care professional before using this product.STORE IN A COOL, DRY PLACE.Do not use if either tamper-evident seal is broken or missing. Keep out of the reach of children.Suggested Use: 2 tablets 2-4 times daily between meals.
Planetary Herbals offers the best of classic herbal traditions, from Ayurvedic and traditional Chinese herbalism to the experience of Western herbal practitioners. Utilizing the knowledge of more than 30 years clinical experience, professional herbalists such as Michael Tierra, Lesley Tierra, Jill Stansbury, and Alan Tillotson, Planetary Herbals is committed to ensuring that our time-tested herbal traditions continue to evolve, grow, and flourish.
SKU: PF0433
UPC: 021078104339
Distributed or manufactured from Planetary Herbals. See more
Planetary Herbals
products.