Detox Your Body | Friendly Force Ultimate Probiotic (120 Vcaps)*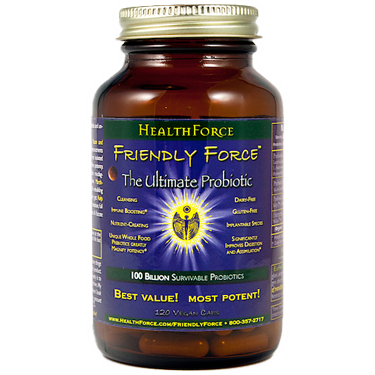 Choose different size or options :
---
Ingredients & Description
Here you'll find the Ultimate Probiotic natural laxative that has more than 150 Billion Survivable Probiotics.
Detoxing your body with Healthforce Nutritionals natural cleansing supportive product on Seacoast.
What are the benefits for you as a "Friendly Force Probiotic" user?
It contains Unique Whole Food Prebiotics that greatly magnify potency and growth in a healthy way
It is perfect for your Cleansing Support
It significantly helps Digestion and Nutrient Assimilation
Detoxifies Toxins after feeding on them
It Effectively assists to the Elimination of unfriendly bacteria like Candida and others
It Holds barred probiotic
What is the Suggested Use of this Friendly Force Ultimate probiotic:
You can take 4 Vegan Capsules or more per day. Do not use it simultaneously with antibiotic substances. Refrigeration can extend life but is not mandatory.
Creative ways to add The Immune System Boosting Ultimate Probiotics to your daily diet:
Add 1.5 tsp. to your favorite fruit smoothies, drinks and dressings for enhanced digestion.
1.5 tsp. to nut/seed cheeses, krauts and cultured drinks.
Include 1.5 tsp. to enemas and colonic implants.
Supplement Facts Friendly Force Probiotic Powder Serving Size: 2.65 g (approx. 1.5 tsp)
APS
%DV
Probiotics (150+ Billion Active Cultures) Lactobacillus plantarum, L. paracasei, L. rhamnosus, L. salivarius, Streptococcus thermophilus, L. bulgaricus
320.8 mg
*
Prebiotic Synergists Yacon Root, Burdock Root
1202.8 mg
*
Probiotic Protection Kelp, Marshmallow Root
476 mg
*
Energetics Shilajit
0.4 mg
*
Other Ingredients: None.
If you are one of the people interested in:
Experiencing how to detox your body

Boosting your natural immune system

Improving your digestion

Support your cleansing system
You are at the right place right now!
Buy the best value of Healthforce Nutritionals Friendly Force Ultimate Probiotic natural laxative on this page (in 120 vegan capsules).
It also comes in 30 Vcaps and in 80g powder.
Read an article next from "Women to Women" in the digestion and health category concerning Probiotics and Beneficial Intestinal Bacteria.
Some more information about our natural probiotic supplements
EcoFresh Nutrient Lock packaging uses an amber jar of glass with airtight metal lid and rubberized seal in addition to the oxygen absorber. This guarantees full potency from the instantof manufacture through to the date it finally expires!
Friendly Force: The Ultimate Probiotic vs. Enteric Coated Probiotic Supplements
Manufacturers of probiotics will try to persuade you that a probiotic capsule should be enterically coated in order to survive exposure to acids of the stomach and make their way to the intestinal tract. It is the exact place where the living probiotic can exert most of the benefits. Does this mean that foods such as yogurt or kefir are valueless?
What the producers of these expensive probiotic supplements are trying to tell us negates generations of traditional fermented food consumption to really enhance digestive health. Obviously, the probiotics in these traditional foods are more than ok to surviving this journey. In reality enteric coating is a very costly procedure, which is pushed in to the product cost, and often uses synthetic chemicals that are not healthy and human friendly.
This Friendly Force Probiotic is grown on a rice base. Immediately after, it freeze-dries into a "dormant" state which is shelf stable (refrigeration is not mandatory).
After consumption, plenty of these bacteria simply absorb all the water and nutrients and are brought back to life. Friendly Force effectively brings in an abundance of advantageous, live, probiotics that are implantable (CFUs - Colony Forming Units), right into your intestinal tract.
All Friendly Force Probiotics (150+ Billion Active Cultures) normally reside in a healthy human body and each one has its own unique value that brings in:
Lactobacillus bulgaricus: It assists in growing friendly bacteria, while fighting the non-friendly ones. It is produces natural antibiotics which improve several immune-strengthening and boosting functions. It also assists to the prevention of toxins absorption from intestinal tract into your bloodstream. It serves anti-tumor properties.
Lactobacillus plantarum - This is known as reducing the symptoms of IBS (irritable bowel syndrome), colitis and Crohn's disease. It is considered to be very resistant to most antibiotics out there, but it literally destroys the pathogens - It is eligible to destroy 1000's of pathogenic microorganisms species. In addition it can produce lysine, a powerful amino acid.
Lactobacillus paracasei - It enhances/improves the digestion functionality and boosts the immune system*. It is also stimulating the growth of additional friendly bacteria.
Lactobacillus rhamnosus - It enhances the immune response through several distinctive mechanisms which are very useful when it comes to combat intestinal and urinary tract pathogens. Additionally, it can increase by six to eight times the number of antibodies that circulate.
Lactobacillus salivarius - Unfriendly bacteria have a hard time with the toxic enzymes this is producing. It also assists in maintaining dental health. It eats away encrusted fecal matter in intestinal tract.
Streptococcus thermophilus - Supports immune function/modulation*. Pathogenic organisms are inhibited this one via it producing lactic and acetic acids. It is documented with the ability to synthesize B-12 and folate.
SKU: FFC120
UPC: 650786000727
Distributed or manufactured from HealthForce Nutritionals. See more
HealthForce Nutritionals
products.
---
*Not intended to diagnose or treat diseases or ailments, and is not reviewed by the FDA.
Uses & Indications.
Promoting Detoxification And Cleansing
Strengthening Immune System
Supporting Healthy Digestion
Ailments & Concerns.
Weakened Immune System
Poor Digestion
Bloating