FloraSmart 6 Billion (90 caplets) - Renew Life - Daily Probiotic Support for Digestive Health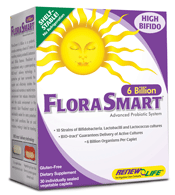 ---
Ingredients & Description
When using probiotics, it's important to choose a probiotic supplement that supports both sections of the intestinal tract. Bifidobacteria are critical to the large intestine, as they:
Help manufacture vitamin K
Help manufacture B vitamins, including B12
Ferment soluble fiber and produce a short-chain fatty acid called butyric acid
Promote regularity
FloraSMART BIO-tract Technology
FloraSMART probiotic formulas are ideal for travelers and people on the go. Conveniently packaged in individual packets that fit easily into pockets, purses or briefcases, each FloraSMART caplet uses a unique BIO-tract delivery system to safely and effectively deliver probiotics to the intestines. The BIO-tract delivery system consists of natural plant-based compounds that form a gel around each caplet when it is exposed to liquids. The gel coating allows the caplet to bypass the harsh acidity of the stomach and deliver the probiotics directly to the intestines. Each caplet breaks down over a 10-hour period, offering a true controlled release of the probiotics. FloraSMART caplets are packaged individually in a foil packet for convenience and moisture protection..

Daily Probiotic, High Bifido Probiotic Supplements, Probiotic Support for Digestion
FloraSMART Probiotics, Digestion, Immune System, Bowel Health, intestinal flora, Bifido Probiotic Supplement, digestive tract, intestinal bacteria, bifidobacteria, lactobacilli, yogurt, Daily Probiotic Support for Digestive Health
New Low Prices on iFlora Probiotic Formulas from Sedona Labs. Nasal Sinus Support. Discount Catalog of Nutritional Supplements. Seacoast.com
SKU: 15653
UPC: 53520-7
Distributed or manufactured from Renew Life. See more
Renew Life
products.