FloraSmart 12 Billion (30 caplets) - Renew Life - Daily Probiotic Support for Digestive Health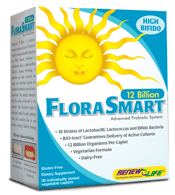 ---
Ingredients & Description
When using probiotics, it's important to choose a probiotic supplement that supports both sections of the intestinal tract. Bifidobacteria are critical to the large intestine, as they:
Help manufacture vitamin K
Help manufacture B vitamins, including B12
Ferment soluble fiber and produce a short-chain fatty acid called butyric acid
Promote regularity
FloraSMART BIO-tract Technology
Probiotics Support Intestinal Health
Bowel Regularity and Immunity
FloraSMART 12 Billion is a daily maintenance probiotic formula that supports digestive health‡. It contains 10 strains of microflora, including Bifidobacteria, Lactobacilli & Lactococcus cultures to support intestinal and immune health.

Daily Probiotic, High Bifido Probiotic Supplements, Probiotic Support for Digestion
FloraSMART Probiotics, Digestion, Immune System, Bowel Health, intestinal flora, Bifido Probiotic Supplement, digestive tract, intestinal bacteria, bifidobacteria, lactobacilli
SKU: 15567
UPC: 56028-5
Distributed or manufactured from Renew Life. See more
Renew Life
products.