FloraMore (120 caps) - Renew Life - High Bifido Probiotic Supplements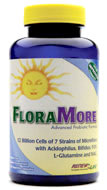 ---
Ingredients & Description
FloraMORE is a probiotic supplement with 7 strains of microflora and FOS to nourish the beneficial bacteria‡. It contains 12 billion cultures of probiotics per capsule, as well as L-Glutamine and N-acetyl D-glucosamine to help maintain a healthy digestive tract. FloraMORE provides a blend of resident strains (those found in the digestive tracts of most people) and transient strains (the probiotics found in fermented dairy and vegetable products). Both resident and transient strains are useful in promoting digestive health. All of the strains were carefully chosen for their proven health benefits.
12 billion active bacteria per capsule
3 billion Bifidobacteria
9 billion Lactobacilli
N-acetyl D-glucosamine and L-glutamine for intestinal cell health
Helps maintain a healthy bacterial balance and digestive cell health
Vegetable capsules
Probiotics Support Intestinal Health, Bowel Regularity and Immunity

Daily Probiotic, High Bifido Probiotic Supplements, Probiotic Support for Digestion
SKU: 15640
UPC: 52720-2
Distributed or manufactured from Renew Life. See more
Renew Life
products.