Flex-Ability, Shu Jin Chih Extract -Planetary Formulas- Chinese Classic to Support Flexibility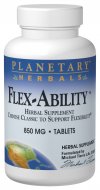 ---
Ingredients & Description
Classic Chinese formula (Shujin San), traditionally used to support muscles,bones and circulation.Widely used in Asia by athletes, martial artists and the elderly.Supports normal flexibility of muscles and limbs.Available in tablets and liquid .If one is at all active, muscle and joint health becomes an increasing issue in everyday life - especially as we age. Now ancient Chinese wisdom may help offset the ravages of physical stress and time on our muscles and joints. Combining modern convenience with herbal tradition, Planetary Formulas has made accessible one of the most classic joint and tissue flexibility support formulas used in the world today. Introducing: Planetary Formulas Flex-Ability, a classic, time-tested Chinese herbal formula now available in convenient tablet and liquid extract form.Generations of UseThe Flex-Ability formula is known in China as Shu Jin San. It was originally created by herbalists to enhance circulation to joint and muscle tissue areas. The formula evolved for the purpose of causing an abundance of nutrient-rich fluids to move into these areas, nourishing the tissues. Although traditionally used to support normal joint and muscle flexibility, today it is widely used in Asia either before or after strenuous hard work or exercise, often by practitioners of the martial arts and by the elderly. Originally created as a powder, Flex-Ability was more recently developed as convenient tablets and tincture.The Flexible Herbal OptionAccording to traditional Chinese herbalism, the herbs in Flex-Ability provide support to the bones and tendons. Flex-Ability combines achyranthes root, teasel root and Angelica pubescens root, with an additional blend of gambir twigs, chaenomeles fruit, ligusticum rhizome, tien chi ginseng root, angelica root, siler root, lycii fruit, notopterygii root and dong quai root.Combining Tradition and ConvenienceLike other Planetary Formulas products, Flex-Ability unites time-tested herbal traditions with modern convenience. Each is exclusively developed or selected by licensed acupuncturist and clinical herbalist Michael Tierra, L.Ac., O.M.D. A clinician since 1972, Tierra is an internationally recognized authority on herbs and best-selling author of herbal books.Ancient Herbal WisdomWith Flex-Ability tablets, Planetary Formulas further extends its line of botanical products to bring you modern herbal wisdom with ease of use. Keep your options flexible. Supplementing your diet with Flex-Ability can help keep you active and resilient - no matter what challenges you face.Lifestyle RecommendationsThe body's joint flexibility can be further supported by regular exercise and a proper diet. Many natural health care experts recommend that consumption of highly acidic foods such as tomatoes, peppers, oranges, eggplant, caffeine, chocolate, and white flour or sugar products should be minimized.
Suggested use: For internal use: 1/4 to 1/2 teaspoon, 2 or 3 times daily. For external use: apply topically as desired.
Supplement Facts for LiquidServing Size: 1/4 Teaspoon (approx. 1.25 ml) Amount%DVProprietary Extract Blend: Gambir Twigs, Flowering Quince Fruit, Pubescent Angelica Root, Achyranthes Root, Dong Quai Root, Ligusticum wallichii Rhizome, Tienchi Ginseng Rhizome, Sichuan Teasel Root, Siler Root, Lycium Fruit, and Notopterygium Root.1.25 ml
Other Ingredients: purified water, grain alcohol (40%).Warning: Not for use during pregnancy or breastfeeding. Do not use if either tamper-evident seal is broken or missing. Keep out of the reach of children.Suggested Use: For internal use: 1/4 to 1/2 teaspoon, 2 or 3 times daily. For external use: apply topically as desired.
Planetary Herbals offers the best of classic herbal traditions, from Ayurvedic and traditional Chinese herbalism to the experience of Western herbal practitioners. Utilizing the knowledge of more than 30 years clinical experience, professional herbalists such as Michael Tierra, Lesley Tierra, Jill Stansbury, and Alan Tillotson, Planetary Herbals is committed to ensuring that our time-tested herbal traditions continue to evolve, grow, and flourish.
SKU: PF0143
UPC: 021078101437
Distributed or manufactured from Planetary Herbals. See more
Planetary Herbals
products.